Xi's Nickname Becomes Out of Bounds for China's Media
Bloomberg News
State media told to stop using popular nickname for president

Term fueled criticism that party was building personality cult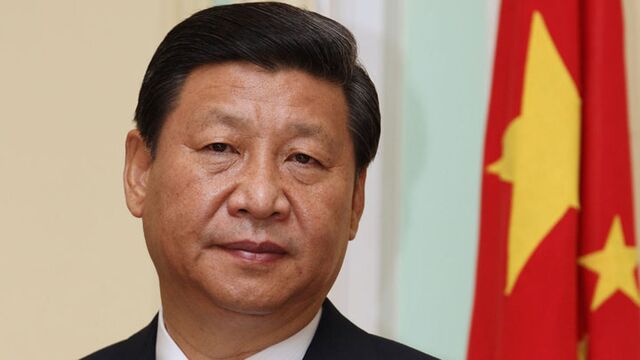 A push to rein in a popular nickname for Chinese President Xi Jinping signals his image-makers are refining their effort to portray him as a populist hero of the masses.
In recent weeks, news outlets including the official Xinhua News Agency and the 21st Century Business Herald have been cautioned against using "Xi Dada" in reports and on social media, according to people with knowledge of the matter.
Xinhua employees were told last Friday not to refer to Xi as "Dada," said one of the people, who asked not to be identified discussing internal policies. The Central Political and Legal Affairs Commission received a similar order for its publications, according to another person.
Since Xi came to power more than three years ago, the name -- literally Xi Big Big, or Big Daddy Xi in his hometown vernacular -- has proliferated on social media, with videos, songs and poetry praising him as an affable father figure. While that image has helped offset perceptions of his privileged upbringing as the "princeling" son of a revolutionary leader, it's fueled criticism that the Communist Party was building a new personality cult like the one blamed for political turmoil under Mao Zedong.
Edicts banning the use of the name by state-controlled media show authorities feel they need to tone down the rhetoric, said Zhang Lifan, a Beijing-based historian and political commentator.
"The deification effort has hit a snag," Zhang said. "The approach was a bit too crude and went overboard, and it met with resistance and even sparked repulsion. The propaganda team needs something different to accentuate Xi's authority."
Fan Club
The name "Xi Dada" dates back to the early days of his ascension as party secretary, with a verified fan club using it in a December 2012 post on the Twitter-like Weibo, according to the website of the party's People's Daily newspaper. It's a term used in Shaanxi, the northwestern region where Xi's father was born and where the future president toiled as a "sent-down youth" during Mao's Cultural Revolution.

Xi personally endorsed the nickname in September 2014, when he gave a school teacher visiting Beijing from the southwest province of Guizhou permission to address him by it. "Xi Dada" became a central feature of a social media campaign encouraged by state-controlled media, including smiling cartoons of Xi and photos of his impromptu visit to a Beijing dumpling shop. 
Before Xi's visit to the U.S. last September, the People's Daily posted the online video "Who Is Xi Dada?" featuring foreign students expressing admiration for the "cute" leader. A song with the lyric, "If you want to marry, marry someone like Xi Dada, a man full of heroism, with a strong backbone," was circulated widely this year.
Personality Politics
Such imagery struck others as a regression to personality politics. Deleted Weibo posts collected by the U.S.-based China Digital Times website include protests against the term, with one August 2014 post describing it as "only used by prostrating lackeys hungry for a daddy."
Why authorities are now reining in the term is unclear. A 21st Century Business Herald journalist, who was informed about the policy recently and asked not to be identified, said the name was overused and probably seen as counterproductive. While media and government agencies have been told not to use the nickname, there's no indication it's being blocked from Internet searches or scrubbed from web pages and social media accounts.
One contributing factor may have been public criticism of the Lunar New Year Gala in February, an event watched by 690 million people, according to China Central Television. Stages symbolizing steps in Xi's political career and sequences extolling his leadership of last year's military parade led Internet users to dismiss the show as politicized and an extended version of CCTV's state-managed nightly news broadcast. 
"My guess is that Xi doesn't want his image to be too familiar and warm," said Perry Link, author of "An Anatomy of Chinese: Rhythm, Metaphor, Politics," and a professor of Chinese studies at the University of California at Riverside. "He would rather it be imposing and awe-inspiring, like Mao's."
— With assistance by Ting Shi, and Keith Zhai
Before it's here, it's on the Bloomberg Terminal.
LEARN MORE