Lawyers Attack Rivals in TV Spots
Increased competition leads to more—and nastier—ads.
By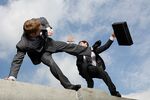 When trial lawyer Geoffrey Fieger takes to the airwaves in Detroit, he doesn't just tout his courtroom prowess, he also chides his competition. "Every day, people are forced to settle for less than they need or deserve. Why? Because their lawyer doesn't really try cases; they only advertise on TV." Another Fieger ad shows darkened silhouettes labeled with the names of competitors as a deep voice asks, "You think you know them, or do you?"
TV viewers get their share of flashy trial lawyer ads. But lately, there have been a lot more, and they're getting nasty. Ads for firms such as Fieger's highlight a more recent trend: lawyers directly attacking their competitors, in a style similar to political ads. Money spent on such advertising by law firms could rise 300 percent this year from last year, says Kantar Media's Campaign Media Analysis Group (CMAG), which tracks TV advertising in 210 markets.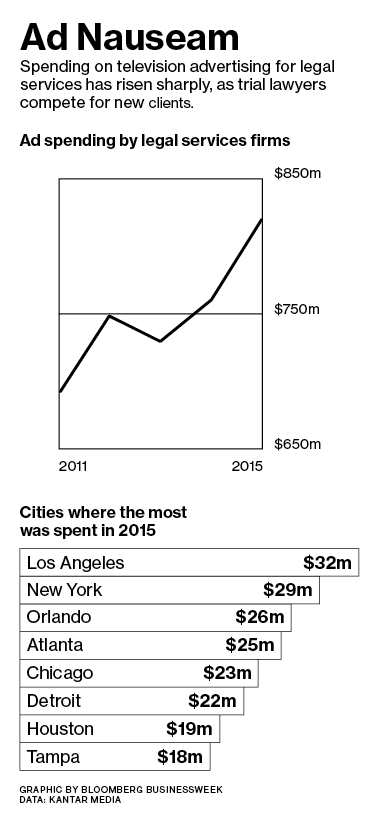 The rise of such ads is tied to a slowdown in legal services and increasing competition among plaintiffs' firms, big and small. Many national legal practices, which have seen revenue growth slow since 2008, are going after potential clients they previously left to small, local law firms. The competition is so fierce in Detroit, for example, that the share of TV ads run by legal services firms has increased 181 percent since 2006, says CMAG.
Fieger's firm—known for representing Jack "Dr. Death" Kevorkian and plaintiffs in high-profile class-action lawsuits—has felt pressure to differentiate itself from competitors who aggressively go after as many fee-generating cases as possible and try to settle quickly, says Alan Sussman, who created the ads. The firm may wind up spending $4 million on advertising in 2016, up from $1 million a decade ago, he says. Fieger and others "have to sort of delegitimize [the competition] by saying, 'These guys are just a national firm. They're just trolling for clients; we're in your community,'" says Geoffrey Pereira, who monitors legal ads for Kantar.
In 2009, TV stations switched to digital broadcasts, creating additional channels that increased the amount of airtime available for ads—and at low prices, says Bill Day, a vice president at Frank N. Magid Associates, TV-business consultants. That's made it easier, especially for smaller firms, to buy TV ads to push back against encroaching competitors. Bigger practices have had to increase their efforts to get attention, too.

Donna Lane has been working in law-firm marketing since 2007, for West Palm Beach, Fla., personal injury law firm Searcy Denney Scarola Barnhart & Shipley. "The law-firm category here is just so cluttered," she says. "They're all saying the same thing." Lane, trying to stand out, recently helped produce an ad that takes a different tack. No voices, just words flashing across the screen: "We get it. There are a lot of lawyer ads on TV. Seems all you hear are lawyers talking. So this 30 seconds of silence is brought to you by Searcy Denney Scarola Barnhart & Shipley."
The bottom line: Competition for clients is pushing up lawyer ad spending, which jumped to $823 million in 2015.
Before it's here, it's on the Bloomberg Terminal.
LEARN MORE