Philippine Peso Sinks as Mayor Likened to Trump Leads Election Race
by , , and
Peso is Asia's worst performer in April amid equity outflows

Presidential front-runner Duterte promises `business as usual'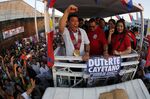 A controversial city mayor's tightening grip on the Philippine presidential race has made the nation's currency Asia's worst performer this month.
The peso slumped 1.6 percent in April as opinion polls showed Rodrigo Duterte, the crime-busting leader of Davao city -- who made inflammatory comments about rape and extra-judicial killing -- extended his lead before the May 9 vote. He spent 22 years running the city of 1.5 million people and trailed his two closest rivals in a Bloomberg survey of economists on which candidate would best steer economic policy. 

Outgoing President Benigno Aquino has won rating upgrades and investor plaudits for transforming an economy once dubbed the "sick man" of Asia, achieving the highest growth since the 1970s. Duterte's popularity has been boosted by peoples' anxiety over crime and, like U.S. Presidential candidate Donald Trump, supporters praise him for straight-talking. As the election looms, Philippine bond risk has climbed from near an eight-month low and foreigners have pulled $41 million from local stocks this month.
'Rather Unflattering'
"Duterte represents uncertainty," said Edwin Gutierrez, who helps oversee about $11 billion as head of emerging-market sovereign debt at Aberdeen Asset Management Plc in London. "He's a bit of a one-trick pony with his law and order message. I don't think he'd do anything to upset the apple cart with economic policy, but I don't see economic reform as being his priority. The comparisons to Trump are obviously rather unflattering whether justified or not!" 
The peso fell 0.1 percent to 46.81 per dollar as of 1:30 p.m. in Manila, while the nation's benchmark stock index dropped 0.9 percent. The currency is headed for its worst month since August and reached 46.943 on Tuesday, the weakest level in seven weeks. ING Groep NV said it's reviewing its forecast for the exchange rate to weaken to 47.60 by the year-end. Local-currency bonds have handed dollar-based investors a loss of 0.5 percent this month, a JPMorgan Chase & Co index shows.
"We could see the peso hitting 48 per dollar before heading back to 46.50 by the end of the year," said Jonathan Ravelas, chief market strategist at BDO Unibank Inc. in Manila. "It's driven by fear and the normal reaction of local investors is to buy the dollar." 
'Business as Usual'
Duterte's spokesman sought to calm market jitters by saying uncertainty usually arises in the weeks before an election, and it will be "business as usual" should the mayor be elected president. The front-runner will provide businesses the "right and proper atmosphere" to prosper without sacrificing the welfare of the people, Peter Lavina said in a statement Tuesday.
The latest poll conducted by Social Weather Stations showed Senator Grace Poe in second place, while Mar Roxas, the candidate backed by Aquino, was third and Vice President Jejomar Binay fourth. While all the contenders are championing reforms started by the outgoing president to boost infrastructure and create more jobs, Poe and Roxas are viewed by economists as the most capable of delivering on their promises.
Duterte has won support from locals by transforming Davao from a city battling crime and gangs in the 1980s to what his campaign calls one of the nation's safest. A controversial figure, the 71 year-old former lawyer and prosecutor is facing a backlash for comments he made April 12 about the rape of an Australian missionary in a 1989 prison riot. He told the U.S. and Australian ambassadors not to meddle in Philippine politics after they condemned the remarks.
'Curve Ball'
"His comments were a curve ball to the market," said Joey Cuyegkeng, economist at ING Groep NV in Manila. "It more or less shakes the confidence of investors that gains in reforms are irreversible. We estimate something like 70 to 80 percent of the peso's weakness is attributable to the local developments."
The cost of protecting Philippine sovereign debt against non-payment for five years has risen eight basis points since April 19 to 104, according to data provider CMA. The credit-default swap contracts were at 93 on March 18, the least since July 2015. A three-month gauge of expected swings in the peso climbed 54 basis points in April to 5.70 percent, data compiled by Bloomberg show.
"Duterte's governance philosophy doesn't seem to have much focus on economic policy, and his lack of national experience is a drawback," said Mixo Das, a strategist at Nomura Holdings Inc. in Singapore. "We are overweight on the Philippines but we'll re-evaluate our position if Duterte's win looks more certain."
Before it's here, it's on the Bloomberg Terminal.
LEARN MORE