Inside the Risky, Jet-Setting World of Credit-Card Churning
You can see the globe on the card companies' dime. As always, there's a catch.
By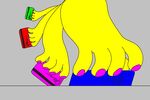 Dan Miller lives in Cincinnati, married with six kids. The family reunion was in Lake Tahoe. Getting eight people across the country would have cost a small fortune. So he churned them there.