Twitter Gains in Users Aren't Enough to Spur Ad Growth
By
Second-quarter forecast falls short, sending shares down 15%

Social network added 5 million users on `seasonal' initiatives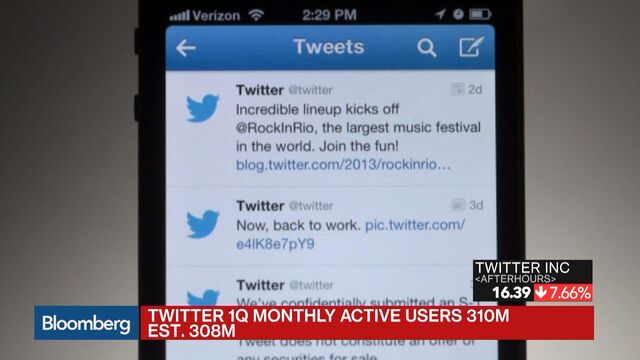 Twitter Inc. drew more users last quarter after a lull, but not quickly enough to lure greater spending from some major brand advertisers. The results sent shares tumbling the most intraday in eight months.
The company forecast second-quarter revenue that will fall far short of analysts' estimates. That's even as Twitter added 5 million monthly active users in the first quarter, for a total of 310 million. Analysts projected 308 million.
Chief Executive Officer Jack Dorsey, the co-founder who took the top job again officially in October, is trying to reshape the company's product and reputation to draw a more mainstream set of users. Twitter hired a chief marketing officer, as well as curators for a live news product called Moments, meant to make the social network less daunting for new participants. The latest strategies so far haven't revived interest from advertisers or widened the user base beyond Twitter's core constituency of journalists, celebrities and politicians.
"The concern that dismal user growth would eventually affect revenue growth is starting to show up in Twitter's results," Jitendra Waral, a senior analyst at Bloomberg Intelligence, said in an e-mail. The decline in brand advertising growth "doesn't bode well for investor faith in Twitter's revival plans for fixing its core product."
Investors have criticized Twitter's slowdown in user growth since its 2013 initial public offering and by some measures the site added no new active participants in the final quarter last year. The company attributed the recent user increase to "seasonality and marketing initiatives" during a period that featured the Academy Awards and Super Bowl -- events that attract more traffic to the social network -- indicating it may be a short-term bump.
Missed Projections
First-quarter revenue grew 36 percent to $594.5 million, compared with the $607.5 million average of analysts' estimates compiled by Bloomberg. Earnings, excluding some items, were 15 cents a share, higher than the average estimate of 10 cents. Net loss narrowed to $79.7 million, or 12 cents a share, Twitter said Tuesday in a statement.
"We had lower demand than we expected from our branded advertisers," Chief Financial Officer Anthony Noto said in an interview. "Can we turn it around? We're driving very strong revenue and revenue growth with these advertisers, they just didn't spend as much as we had thought they would spend, and we're in a transition period."
Twitter forecast sales in the current quarter from $590 million to $610 million, missing the $677.1 million average analyst projection.
Shares declined 15 percent to $15.07 at 12:31 p.m. Wednesday in New York, after earlier falling as much as 17 percent, the biggest intraday drop since August. The stock lost 23 percent this year through Tuesday's close.
"There's risk that Twitter is a deteriorating asset," Mark Mahaney, an analyst at RBC Capital Markets, who has a hold rating on the stock, said before the earnings report. "I just haven't seen enough product improvements for an experience that's just materially better than people have seen in the past, or appeals more to the mainstream."
Difficult Time
Twitter's last few months have been turbulent. The company lost five of its top executives on one weekend in January, for example. Dorsey also added two new members to the board, replacing two directors who are set to leave when their terms expire later this year. Meanwhile, Dorsey is the boss of another public company, Square Inc., and splits his time between the two offices, a block away from each other on San Francisco's Market Street.
Despite the shifts at the top of the company, Twitter has gotten clearer about explaining its purpose and its goals. Dorsey in January hired Leslie Berland from American Express to be its chief marketing officer, given the task of cementing Twitter's reputation as a place for live events. The company is prioritizing live video, and working to make content deals for streaming sports, political events and entertainment.
Earlier this month, Twitter agreed to pay $10 million to the National Football League for the rights to stream 10 Thursday night games during the 2016 season, people familiar with the matter have said. The deal already has drawn one major advertising sponsor, as well as interest from other major sports leagues, the company said in a conference call with analysts.
Greater Competition
Just as the company is settling on "live" as its priority, so are its bigger competitors. Facebook Inc., which has five times the users, recently made it possible for any of them to live-stream directly on the network. Facebook also is emphasizing live news in its feed and search results. Snapchat Inc., which has more than 100 million daily active users, has become a popular place to watch "live stories," which include video curated from its users.
"We've been doing live for 10 years," Dorsey said, when asked about the competition. "It is not just about showing a live event, it's hosting a conversation around a live event."
Twitter is projected to draw 2.3 percent of the $102.5 billion mobile Internet advertising market this year, according to eMarketer, behind Google Inc., Facebook Inc. and Alibaba Group Holding Ltd.
"We have a clear understanding of what we need to change in terms of the product, the content and marketing," Noto said. "We have a product road map that we think is aligned with that specifically and we're going to continue executing. That's what we can control."