Luxury Travel
Hey Stranger, Do You Want to Borrow My Private Jet?
XOJet's chief executive officer discusses its on-demand model for flying private in the age of Uber.
by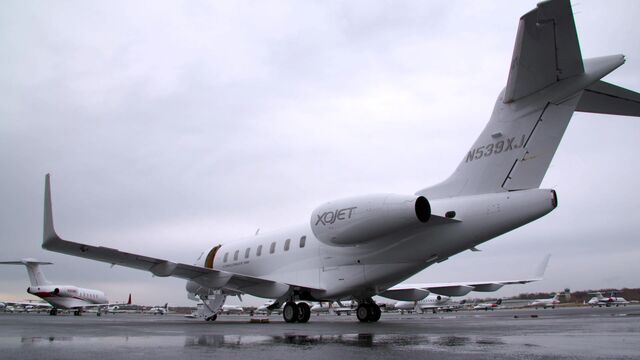 "Man, oh man, this is such a hard ride to get. They always restrict this. Awesome!" 
Brad Stewart, chief executive officer of XOJet, can still get giddy flying in one of his company's private jets, despite having served as chief for the past six years.
Sipping wine and sitting in leather-clad recliner seats of our Challenger 300 jet, we're streaking south past Manhattan—"Right over the Hudson River!" beamed Stewart. In mere minutes, the spring green of Central Park's trees, the round white stadium of Madison Square Garden, and then the silver glints of One World Trade Center in the Financial District whiz past. We're so close to the skyline, it's almost as if we could reach out and touch it. There's certainly something to the private jet life.

Jetset On Demand
"A lot of individuals ask, 'Should I buy a private jet?'" says Stewart. "I always say I have three questions. Do you want to keep your shoes on it? Two, do you have so much money that you never have to think about? Three, do you want to own your own private jet company? If they answer yes to everything, then I say go ahead and buy an airplane." One Challenger 300 retails for $22 million. Maximum speed Mach .82, or about 630 miles an hour. Maximum passenger load, just nine people.

But the trend is that the affluent are evolving from flat-out ownership to flexible accessibility. As a result, the number of hours flown by aircraft that are owned by people are sliding while the number of hours flown for on-demand business flights are rising, says Stewart. And those who own jets can earn money off the times they are idle—like an Uber or Airbnb in the sky. 
And that's XOJet's business proposition: All its planes are on-demand, with some 1000 jets criss-crossing the U.S. and certain countries around the world, including the smaller, even-faster Cessna Citation X (which can nearly break the sound barrier). Relatively more accessible than purchasing an entire jet, an XOJet flight from New York to Los Angeles costs from $31,000 to $34,000. This business strategy sets the company apart from bigger competitors that include Berkshire Hathaway's NetJets and Flexjets, owned by a group of investors led by investment firm Directional Aviation Capital. The U.S.'s biggest and second-biggest jet leasing companies employ a fractional business model, similar to time share for a vacation home. 
"You have a private jet and it's only getting flown 100 or 200 hours, so the owner makes it available to the on-demand charter market. I think that's part of what's fueling this shift away from ownership consumption to on-demand or rented consumption," says Stewart.

It's All VIP
While Stewart keeps client names secret, social media posts from Instagram and Twitter reveal a few of them, including celebrities The Rock and DJ Tiesto. Stars, athletes, and connected influencers in the media all fall into the first VIP group of XOJet clients, says Stewart. 
"Second is what I call financiers, so it's private equity and hedge fund executives. Third is one no one talks about, but I think is the most interesting: folks who started and own their own companies. They aren't high profile—are below the media radar but extremely wealthy." Generally, XOJets clients spend several hundred thousand dollars on consumption of private aviation services each year. They earn at least $3 million each year. And their net worth tends to be $30 million to $40 million. 
"They are the top 10 percent of the 1 percent," says Stewart.
And they expect perfection, efficiency, and amenities.
On our Manhattan excursion, we were presented with a cheese, cracker, and fruit basket and a white wine selection. XOJet also includes in-air Wi-Fi connectivity and a drawer full of spirits, including brand-name vodkas and scotches. Champagne can be requested, but Stewart says it tends to spoil quickly if kept on the plane because of repeated changes in temperature from ground to air.
"It's a passion of mine to understand them and what's important to them," says Stewart of his clients.
He seems to be on the right course. In January, XOJet announced record earnings before taxes, soaring 41 percent year-on-year as he ensures that his VIP clients will want to linger just a few minutes longer on their private plane, even after touching down.

Before it's here, it's on the Bloomberg Terminal.
LEARN MORE