China's Media Startups Fight Censorship Crackdown
Investments in news, video and movies have soared despite the government's tightening grip.
By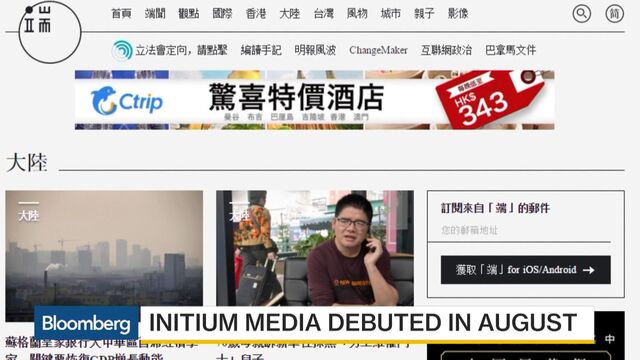 Will Cai is a pedigreed insider in China where he clerked on the nation's highest court and went on to become a high-profile M&A lawyer. That hasn't made it any easier to run a news website at a time of the country's worst media repression in years.
His site, Initium Media, debuted in early August and the next week an explosion hit the northern city of Tianjin. His editor-in-chief Zhang Jieping quickly dispatched three journalists to the scene, where toxic chemicals stored in a warehouse had erupted in a fireball that spewed debris and poisons over nearby apartments. The reporters slipped past security cordons to write about the disaster that claimed more than 150 lives and then reported on the connections of the warehouse owner. Within days, Initium's website was blocked in the mainland.
Zhang and Cai never heard directly from Chinese officials, but they're convinced the country's increasingly strict censors cut off mainland readers. Since then, the Hong Kong company has had to shift its business model and editorial approach. It is focusing on Chinese-speaking readers outside the mainland and has pulled its reporters out of the country, using freelancers to cover less sensitive culture stories. 
"On the one hand, that meant we are doing some good, serious journalism. On the other hand, we must now really focus on the overseas Chinese market,'' Cai said. "We are hopeful that gradually China will open up its media market.''  The Cyberspace Administration of China didn't respond to a request for comment. 
China is in the midst of a media crackdown, with tightened censorship, blocked websites and televised confessions from reporters. Nevertheless, the country's media industry is booming. China's biggest Internet companies and startups like Initium are making record investments in news, movies and online television shows to satisfy the growing demands of Chinese consumers.
Venture firms put $2.71 billion into China media deals last year, more than five times the average during the previous four years, according to PitchBook Data Inc. Alibaba Group Holding Ltd., whose primary business is e-commerce, has acquired Hong Kong's largest English-language newspaper, a video streaming website and a television and movie production company. Alibaba CEO Daniel Zhang now refers to the company as an "e-commerce media ecosystem.''
"There is such pent up demand by the emerging middle class for culturally relevant fare that investors are right to scramble,'' said Tom Doctoroff, Asia Pacific chief executive officer for advertising agency J. Walter Thompson Co.
China has more than a billion mobile phone users now, looking for content beyond the traditional television stations and news outlets that have been under tight state control since the Communist Party took power in 1949. Investors are betting they can profit from developing the country's own versions of Netflix, YouTube, Snapchat and Vice Media.
"The widespread use of smartphones in Greater China has created a tremendous opportunity for digital media,'' said Marcus Brauchli, former executive editor of the Washington Post and founder of North Base Media Ltd., which has invested in a Taiwan-based news site. "For many younger users the traditional media brands either aren't well known or are tainted by association with governments or political allegiances. They're looking for fresh, honest and engaging content, for voices and viewpoints.''

Cai grew up in Fujian Province on the southeast coast of China. His father managed a small factory, working so many hours his son rarely saw him. The younger Cai took an interest in law and became a clerk for China's highest court. He went on to Stanford University's law school and later joined Skadden Arps Slate Meagher & Flom LLP in Hong Kong. He has worked on some of China's biggest tech deals, including last year's $15 billion merger between the group-buying site Meituan.com and restaurant-review service Dianping.com.
Cai always dreamed of owning a Chinese-language newspaper and founded Initium as a high-brow Internet news site, with aspirations to make it his country's answer to The Economist. He has raised $3.7 million in venture capital and plans an expansion into video production and movies in the future.
"I had a midlife crisis,'' said the 39-year-old, who has kept his day job as a Skadden lawyer. "This is better than buying a sports car.''
To staff the site, he hired some of the highest profile mainland reporters working in Taiwan and Hong Kong. The editor-in-chief Zhang, who is also known as Annie, won acclaim for her coverage of the push for democracy in a small southern Chinese village called Wukan. Cai has said he won't interfere with the outlet's daily news operation.
In its nine months of operation, the site has already been criticized both for being too antagonistic of the Communist Party and too supportive. Apple Daily, a Hong Kong newspaper owned by Jimmy Lai and critical of China's communist rulers, accused Cai of having secret ties to mainland backers and President Xi Jinping. Cai has denied the allegations. Zhang said the news site is working to find its place as China's Communist Party cracks down on any sign of disloyalty.
"I want to not be close to the party, but not against the party,'' she said. "The middle road is empty.''
The block on Initium's site puts it in the company of Western media outlets such as the New York Times and Bloomberg. The Economist magazine's site was cut off in April after it ran a cover story entitled "Beware the Cult of Xi'' with an illustration of the president in Mao-era dress. Still, Zhang estimates as much as 20 percent of Initium's readers are from the mainland, evading censors with virtual private network software.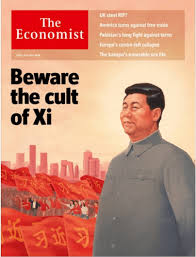 The block means additional challenges for Cai in building a profitable business. Initium is now focused on Chinese readers outside the mainland with plans to expand within the country in the future. The company aims to generate money from advertising and revenue sharing with e-commerce partners.  In a sense, getting shut out reinforced Cai's plans. "Blocking our website just confirmed our understanding of the overall regulatory environment,'' he said.
Cai said the website has about 2 million unique visitors a month and 110,000 downloads of its app. The vast majority of readers are from Taiwan and Hong Kong, given the limitations inside China, with the rest coming from the U.S., Japan and elsewhere. Cai is hoping to break even next year.
Peter Liu, founder of venture capital firm WI Harper Group Inc. and one of Cai's backers, said it may be simpler for the business to focus outside China, at least for now. He's seen the toll China's censors can take through his firm's investment in media there. "We have a history of investing in media, and we used to own magazines in China. We learned our lesson,'' Liu said. "Inside China there's heavy censorship and it's complicated, especially right now.''
Cai is trying to take a long-term view. He sees the opportunities for new media companies in China not just in news but also in online video and movies. "The Chinese are getting richer and richer, but look at the content,'' Cai said. "There has to be a good media group.''