Britain's BHS to Enter Administration, Risking 11,000 Jobs
by
Duff & Phelps appointed after negotiations to find buyer fail

Billionaire Philip Green sold BHS for a pound in March 2015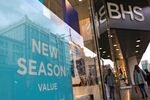 BHS Group Ltd. appointed administrators to protect against insolvency, putting 11,000 jobs at risk in what would be the biggest U.K. retail collapse since Woolworths Group Plc in 2008.
Advisory firm Duff & Phelps was appointed after failed negotiations to find a buyer, according to an e-mailed statement. The move also reflects a lack of success in selling property to ease financial strains on the company. BHS said a lower-than-expected cash balance means it's "very unlikely" to meet all contractual payments.
The retailer, which opened its first store in London almost nine decades ago, has struggled to grow sales against a backdrop of mounting competition and burdensome debt, which prompted billionaire Philip Green to sell it for a pound last year. The chain's 164 outlets offer everything from clothing and lighting to luggage, which have become readily available from online retailers, discounters and supermarkets.
"BHS has long been seen as an anachronism on the high street and it is surprising that it has survived this long," Jon Copestake, an analyst at Economist Intelligence Unit, said by e-mail. "Visitors to BHS outlets, even in prime locations on key shopping dates, will have been struck by how quiet they have been. The chain simply stopped being relevant to shoppers."
Pension Deficit
BHS said it will continue to trade as usual while administrators seek to sell the business.
The move echoes the 2008 failure of the British Woolworths chain. Woolworths foundered almost a century after it hit the scene at the cost of about 27,000 jobs. Since then, retailers including electronics chain Comet and Blockbuster video stores have also disappeared from U.K. towns, often replaced by discounters.
BHS looked to have been given a lifeline last month when its creditors agreed to accept lower rental payments to prevent mass closures. Retail Acquisitions, the investor group that bought BHS from Green little more than a year ago, hasn't been able to raise the 160 million pounds ($230 million) it had targeted to revive the chain's fortunes, according to the BBC.
When Green bought BHS for 200 million pounds in 2000, 13.4 percent of British clothing shoppers visited the chain. Last year, that had fallen to 8.2 percent, according to researcher Conlumino. In the four years after Green's purchase, the retailer paid 420 million pounds in dividends.

BHS's difficulties have been compounded by a pension deficit that stood at 571 million pounds as of March 4, according to a court document. That figure represents the pension-related liabilities that would be faced by a prospective buyer.
"The biggest question marks will center on what happens to its staff and to its significant pension shortfall," said Copestake.
If the retailer is liquidated, it will owe another 757 million pounds to landlords, suppliers and other unsecured creditors, the court document shows. The company also owes 124 million pounds to secured creditors including Green's Arcadia Group, Barclays Plc, Gordon Brothers Group and Grovepoint Capital, according to the document.
"It's hard to imagine BHS could attract any new buyer for the entire business without the co-operation of the Pension Protection Fund with regards to the deficit," said Graham Lane, a partner in the business reorganization and restructuring department at law firm Willkie Farr & Gallagher in London. The U.K. Pension Protection Fund was created in 2004 to guarantee pensions when sponsor companies go bankrupt and was financed by their contributions.
BHS, formerly known as British Home Stores, opened its first shop in Brixton, south London, in 1928. The chain was formed by a group of U.S. entrepreneurs, who based the stores on American five-and-dime merchants, setting the top prices in its stores at one shilling, or five pence.
"It is a firm that is out of step with modern consumer tastes, which lacks the finances to enact the major changes required," Neil Saunders, chief executive officer of Conlumino, said. "As such, it is now a retailer that is out of time."
Before it's here, it's on the Bloomberg Terminal.
LEARN MORE