Obama Says Syria Safe Zones Won't Work as Merkel Backs the Idea
By
U.S. leader says it `requires a big military commitment'

German counterpart says zones should grow out of peace talks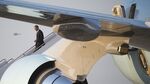 U.S. President Barack Obama reaffirmed his doubts about creating "safe zones" for refugees in Syria, even as German Chancellor Angela Merkel stood by the idea as part of a negotiations to halt the five-year civil war.
While Obama and Merkel sought to smooth over any differences at a news conference in Hanover, Germany, on Sunday, the proposal for such a protected zone has been a persistent difference between the close allies.
"As a practical matter, sadly, it is very difficult to see how it would operate short of us being willing to militarily take over a chunk of that country," Obama said. "And that requires a big military commitment" to protect refugees from attacks.
Merkel said safe zones couldn't be imposed from outside but would have to come out of negotiations in Geneva to end the war, identifying areas where people can feel "particularly safe." Obama said he agreed with that version of the proposal.
About a million migrants entered Germany last year, and Merkel has been politically bruised by her handling of the refugee flows. The influx is credited for losses by Merkel's party in three state elections last month, and the rise of Alternative for Germany, a populist-right party whose platform calls for closing the nation's border to "uncontrolled" migration. Obama praised Merkel for her sensitivity to the refugee crisis.
'Behind a Wall'

"Perhaps because she once lived behind a wall herself, Angela understands the aspirations of those who are denied their freedom and seek a better life," Obama said of the German leader, who grew up in Communist East Germany.
"She's on the right side of history on this," Obama said. "For her to take on some very tough poltics in order to express not just a humanitarian concern but a practical concern that in this globalized world it is very difficult for us to simply build walls."
Even some Germans who support providing safe haven to the refugees have been dismayed by Merkel's handling of the crisis, and particularly her concessions to Turkish President Recep Tayyip Erdogan in a bid to slow the flood of migrants. In addition to a 6 billion euro ($6.7 billion) aid package offered by the European Union, Merkel granted Turkey's request to allow the possible prosecution of Jan Boehmermann, a German satirist who lampooned Erdogan in a bawdy poem. Members of Merkel's governing coalition said the decision was anti-democratic.
On Saturday, Merkel and other European Union officials visited the Turkish-Syrian border to tour a refugee camp and meet with Turkish leaders. Merkel raised her support of safe zones then.
Srebrenica Lesson
"It's very easy to identify such regions along the Turkish-Syrian border," Merkel said at a news conference in Gaziantep, Turkey, on Saturday after meeting Turkish Prime Minister Ahmet Davutoglu. "The safer people feel, the less reason they have to leave their home country."
But the head of the United Nations refugee agency and nongovernmental aid organizations have warned against the idea, saying that setting up the zones and adequately protecting them would be extremely difficult. In 1995, the UN-protected town of Srebrenica, Bosnia was overrun, leading to the massacre of 8,000 people. Secretary of State John Kerry said last month that establishing Syrian safe zones would require 15,000 to 30,000 U.S. troops.
In an interview published Saturday by Germany's Bild newspaper, Obama said Merkel's leadership was "essential" to "dealing with the large number of migrants in a humane and safe manner." He also praised her handling of Russia's incursion into Ukraine and said the German leader was "pragmatic and focused."
"I value her partnership tremendously, and I'm proud to call her my friend," Obama told Bild.