Regulating Banks' State Debt Pile Is a Job for Basel, Hill Says
by , , and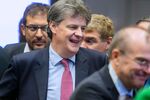 European Union policy makers should hold off on imposing restrictions on banks' holdings of sovereign debt until a global consensus is reached on the issue, said Jonathan Hill, the EU's financial-services commissioner.
"We need to see where Basel is going," Hill said in an interview in Amsterdam on Friday, referring to the Basel Committee on Banking Supervision. "If you don't, you've got risks of regulatory arbitrage. I think there are risks potentially around financial stability." As a result, the EU needs to be "sensible and cautious" by approaching reform as part of an international effort, he said.
The EU faces a tough political battle over changes to the regulatory treatment of government bonds. The issue has become a focus of political debate in recent months because of Germany's insistence that the euro area should reduce the risks banks are facing, including government debt on their balance sheets, before creating a common deposit insurance system to round out the so-called banking union.
That puts Germany at odds with other EU states. Italy is staunchly opposed to limits, for example, and Spain sees other aspects of tightening financial ties in the euro area as more important, such as creating a backstop for the currency bloc's bank resolution fund.
'Disadvantageous Position'
Reducing the risk posed by state debt on banks' balance sheets isn't "especially relevant," acting Spanish Economy Minister Luis de Guindos told reporters in Amsterdam on Friday before the issue was discussed at a meeting of EU finance ministers. "It's very important that European banks aren't in a disadvantageous position in relation to banks in the rest of the world."
The issue is particularly important in Italy, where domestic state debt accounts for 10.5 percent of banks' total assets, well above the euro-area average of 4.2 percent, according to European Central Bank data. In Spain, the figure is 8.8 percent, compared with 3.2 percent in Germany.
The two main options on the table for dealing with sovereign bonds would be to impose limits on the concentration of debt that banks can hold, or to limit the current practice of treating many sovereign bonds as risk-free for regulatory reporting.
The debate over state debt ignores the experience of countries like Malta, where local banks hold most of the government's paper and there was little speculation in the market to destabilize the economy or the financial sector, Edward Scicluna, the country's finance minister, said in an interview. Maltese government debt accounts for 4.5 percent of banks' total assets.
'Outside Exposure'
"It was to Malta's advantage, especially during the financial crisis, that our debt was taken up by local institutions and local citizens," he said. "There was no speculation at all, and we had no outside exposure, unlike Italy and others, where speculation was undermining the sustainability of the debt for that particular country."
Hill said the EU would wait to see how the discussion develops in the Basel Committee, where the European Commission, the bloc's executive arm on which Hill serves, has observer status.
"We need to see how the conversation goes today among member states," he said. "We don't need to be rushing on this. We need to see how the debate develops. In the light of what we hear, we'll make our contribution."
Before it's here, it's on the Bloomberg Terminal.
LEARN MORE