politics
Conservatives Bash Trump's Leftward Tilt on Abortion, Transgender Bathrooms
The pushback highlights the GOP front-runner's balancing act between the demands of his primary base and the general electorate.
By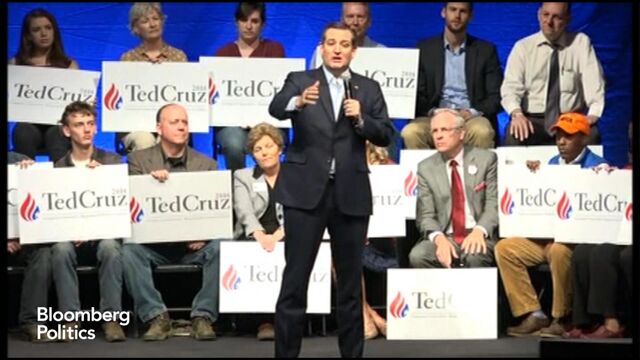 To hear some conservatives tell it, Donald Trump is now showing his true colors.
On Thursday, Trump said the Republican platform should support legal abortion in certain instances and that transgender people should use the bathroom they choose, prompting hand-wringing from social conservatives who worry the front-runner for the party's presidential nomination is steering away from their causes.
"Donald Trump is no different from politically correct leftist elites," said his main Republican rival, Texas Senator Ted Cruz. "Today, he joined them in calling for grown men to be allowed to use little girls' public restrooms."

Trump's statements are sure to be front and center as Cruz and social conservatives wage a campaign to block the billionaire from winning delegates in upcoming Republican primaries. 
At the top of that list is the May 3 primary in Indiana, where evangelical voters make up a large share of the party electorate. Scant polling has been conducted in advance of the primary, but surveys by unaffiliated groups show a tight race between Trump and Cruz, Politico reported. 
Micah Clark, director of the American Family Association of Indiana, said the positions Trump took Thursday may hurt him and help Cruz in the state.
"I don't think that's going to play very well in Indiana," Clark said of Trump's comments. "Trump is a little bit out of step with Republican primary voters, if that's his position."
'Alarming' Conservatives
Cruz was scheduled to meet with Indiana Governor Mike Pence, a fellow Republican and social conservative, on Thursday for a campaign rally in Indianapolis and to speak at the party's spring dinner. 
"What Trump has said on both of these issues should be alarming to any social conservative who has thought about supporting Trump," said Bryan Fischer, a social conservative activist who hosts the "Focal Point" talk program on the American Family Radio network. "If you cannot stand unapologetically for the sanctity of human life and for normative sexuality, you cannot be a credible conservative candidate."
On NBC's Today show, Trump said he "absolutely" wants to change the GOP platform to add abortion exceptions for rape, incest and the life of the mother, which he supports but the platform doesn't mention. In reference to laws like the one signed by North Carolina's Republican governor, Pat McCrory, Trump said transgender people should "use the bathroom that they feel is appropriate." North Carolina, Trump said, faced "economic punishment" for passing a the law that mandates people use bathrooms based on the sex assigned to them at birth.
"We've tried to warn evangelicals who support Trump that he is only masquerading as a conservative and is not with us on the values issues. This should be all the proof they need that we're right," Fischer said, alluding to conservatives skeptical of Trump for having taken liberal positions in the past.
The issues set up a tricky balancing act for Trump, who—like prior presidential nominees as well as Democratic front-runner Hillary Clinton—is trying to bridge the demands of appealing to his party's base while also looking ahead to the general election. He has mostly hewed to a conservative line on abortion and LGBT rights but hasn't emphasized them in his core pitch, which focuses on economic protectionism and nationalism.
Republicans want people to use the bathroom that reflects the sex assigned to them at birth by a margin of 64 percent to 23 percent, according to a Reuters survey released Thursday, but outside the GOP, support was stronger for letting people use bathrooms that reflect their chosen gender identity.
Cruz has portrayed the issue as one of "basic common sense." At a Thursday rally in Frederick, Maryland, he accused Trump of bending to political correctness, and unveiled hats that say "Make PC Great Again," mocking Trump's campaign slogan.
"American women have a reasonable expectation of privacy in public restrooms," Penny Nance, who leads the conservative women's group Concerned Women for America, said in a statement. "Political correctness is the enemy of common sense often and never more clearly than in the case of bathroom politics."
Abortion presents a similar dilemma for Trump.
While Cruz and the Republican anti-abortion community want to outlaw the procedure without exceptions for rape and incest, three-quarters of Americans want abortion to be legal in those circumstances, according to a 2015 Quinnipiac University poll. Trump's call for enshrining those limits in the GOP platform, which includes broad and unqualified condemnation of abortion, drew the ire of pro-life advocates.
"The Platform sets the standard that all candidates need to work from, and the suggestion that the platform should weaken its position on the pro-life issue would set back years of hard work in the pro-life movement," Tom McClusky of March for Life Action said in a statement responding to Trump's remarks.
Notably, Trump didn't back down on Thursday in the face of criticism. His remarks came in the midst of a campaign shakeup designed to instill a new level of message discipline. From late March to early April, Trump committed a series of unforced blunders on subjects such as whether women who undergo abortions should ever face criminal punishment that tarnished his image nationally, according to surveys. 
—With assistance from Mark Niquette.
Before it's here, it's on the Bloomberg Terminal.
LEARN MORE