How Abe Is Making a Failure of Success
Japan's powerful prime minister still can't get the economy going.
By and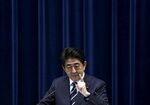 Prime Minister Shinzo Abe has had a great run since assuming power in 2012. His Liberal Democratic Party-led coalition government was reelected in 2014 with a comfortable majority in the Diet. Polls suggest it would probably win again if Abe calls lower house elections in the near future, as some expect. He could be in power through 2020, becoming Japan's longest-serving prime minister. No politician in Japan poses a serious threat.
Surprisingly, the electoral clout hasn't given him free rein to push his signature economic program forward. Launched with great fanfare three years ago, Abenomics aimed to revive Japan with a three-pronged strategy of aggressive monetary easing, fiscal spending, and structural reforms. Instead, the International Monetary Fund in April halved its 2016 growth forecast for Japan to 0.5 percent, deflation remains a worry, real wages have fallen for four consecutive years, and the Nikkei is down 11 percent this year as foreign investors head for the exits.

Abe's power is constantly being challenged. He faces pushback on his economic revitalization drive not just from the opposition Democratic Party, but also from some fellow LDP lawmakers and his own rural voter base. "Reform requires whacking away at vested interests, but when you've been in charge, like the LDP, for the better part of 60 years of a highly homogeneous society, most of those vested interests will also be your bedrock constituencies," says Jun Okumura, a visiting scholar at Meiji Institute for Global Affairs.
Abe wants to cut corporate taxes; liberalize the agriculture, energy, and health-care industries; and make the labor markets more flexible and open to women and foreign workers. It's been slow going. LDP fiscal conservatives have focused instead on Japan's debt (the world's highest). They persuaded Abe to go with a hike in the consumption tax from 5 percent to 8 percent in April 2014. The move triggered a recession and offset the progress that the Bank of Japan's monetary easing had made in stoking the stock market and weakening the yen.
With the yen rising and growth slowing, Abe's closest advisers know they need to do more. Kozo Yamamoto, a member of the "reflationist camp," on April 13 called for new fiscal stimulus, fresh BOJ easing, and even a tax on companies with big cash hoards to prod them to invest. Even so, Abe is under pressure to hike the sales tax to 10 percent.
At the same time, the prime minister needs to speed up structural reforms, say the IMF and the U.S.-Japan Business Council. One aspect of those reforms is guiding the Trans-Pacific Partnership trade pact through the Diet. Japan imports about 60 percent of its food and has agreed to reduce duties on many farm products. Abe argued in a January Diet speech that the trade deal would generate jobs, boost growth, and usher in a "new era in agricultural policy." Japan's largest farm lobby, JA-Zenchu, is demanding that the government compensate producers hurt by the deal and warned in October of "growing voices of unease and anger in farming regions." If the LDP's rural support weakened, it would affect its ability to win elections.
Ordinary Japanese react negatively to the idea of structural change, says Mireya Solís, a senior fellow for East Asian studies at the Brookings Institution. "They have no stomach for it," she says. With labor reform, they think there'll be more firing than hiring, Solís adds.
Despite the speed bumps, "there has been no change in the trend towards recovery," Abe said in a news conference in March. No matter how long Abe is in office, reenergizing the economy will remain a challenge because his core supporters are resistant to change.
—With Anna Kitanaka
The bottom line: Prime Minister Abe is the most powerful politician in Japan, but his reform policies face opposition even from his own party.
Before it's here, it's on the Bloomberg Terminal.
LEARN MORE