Bulgaria Imposes Compulsory Voting to Increase Turnout
by
Lawmakers vote 109 to 74 to back amendment to Election Code

Opposition says ruling is 'inadmissable, unconstitutional'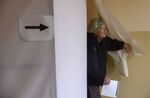 Bulgaria imposed compulsory voting in an effort to boost turnout as public trust in politicians declines amid widespread allegations of graft.
Lawmakers voted 109 to 74 with 10 abstentions to adopt a legal amendment to the Election Code that says voting is a "civic duty" compulsory for all, Speaker Tsetska Tsacheva said in Sofia on Thursday. A draft proposal, which is yet to be voted on, envisages deleting the names of people who don't vote from the electoral rolls and forcing them to re-register with the city councils when they decide to vote again.
"When the turnout becomes higher, the chances of someone buying votes declines," Krassimir Velchev, deputy leader of the ruling party Gerb's parliamentary group, told Bloomberg. "For many years we couldn't overcome one of the biggest crimes in the country."
Other European Union countries with compulsory voting include Belgium, Greece and Cyprus. The poorest EU country saw turnout in parliamentary elections decline to 49 percent of eligible voters in the 2014 ballot, which brought to power the minority coalition government led by Prime Minister Boyko Borissov. His first cabinet was ousted by anti-austerity protests in 2013.
Corruption Perceptions
Previous ballots in the nation of 7.2 million have been marred by reports of violations, including allegations of vote-buying and threats to fire people if they didn't support a given candidate in small towns and villages, according to the Bulgarian arm of Transparency International. Bulgaria ranked 69th in a corruption-perceptions index by the Berlin-based Transparency International, which makes it the most corrupt EU country. The Balkan state will hold presidential elections this year.
"Transforming a right into an obligation is inadmissible, unconstitutional," Chetin Kazak, a lawmaker from the opposition Movement for Rights and Freedoms and deputy chief of parliament's legal affairs committee, told the assembly. "It will be revoked by the Constitutional Court immediately."
About 40 percent of Bulgarians said they won't vote in a general election, according to an opinion poll conducted by the Alpha Research polling agency in Sofia among 1,723 people Feb. 18- March 4. Other countries with compulsory voting include Argentina and Australia, according to the CIA Factbook.
Before it's here, it's on the Bloomberg Terminal.
LEARN MORE