Kerry, Zarif to Meet Friday to Resolve Sanctions Relief Dispute
by and
Iran has received only $3 billion in frozen assets, Kerry says

U.S. restrictions are keeping European banks at bay, Iran says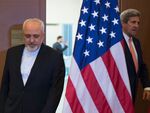 U.S. Secretary of State John Kerry and Iran's Foreign Minister Mohammad Javad Zarif agreed to meet again this week to resolve a complaint that the Islamic Republic hasn't received its share of sanctions relief after reaching a nuclear deal with world powers.
Kerry and Zarif will talk Friday on the sidelines of a United Nations event, after almost three hours of talks on Tuesday failed to resolve differences. Iranian officials, including Zarif and Central Bank governor Valiollah Seif, have complained that world powers haven't honored their obligations under the accord, signed Jan. 16.
While the nuclear accord led to the lifting of some economic sanctions, including allowing the country to increase oil exports and reconnecting Iranian banks to the SWIFT system for international financial transactions, some U.S. restrictions remain in place. That forces companies seeking to work with Iran to navigate a complex set of regulations.
The two diplomats worked at ensuring the accord "is implemented exactly as it was meant to be and all the parties to that agreement get the benefit that they are supposed to get out of the agreement," Kerry told reporters after the meeting with Zarif at the United Nations on Tuesday. "We worked on a number of key things today and made some progress on it."
$3 Billion
Zarif put the onus on the U.S. "The U.S. should implement its obligations so that the Islamic Republic actually benefits" from the nuclear deal.
Iran has only received about $3 billion of previously frozen assets since the nuclear deal was implemented in January, Kerry said on Monday. The U.S. estimates Iran ultimately should have access to $50 billion to $55 billion, State Department spokesman John Kirby told reporters on Tuesday.
Iran says it has more at stake. It has been unable to tap as much as $100 billion of its assets held abroad and has gotten "almost nothing" from the nuclear accord, Seif said in an interview with Bloomberg Television last week. The central bank governor said the U.S. Treasury's Office of Foreign Assets Control should issue guidelines encouraging European banks to be more receptive to Iran. Seif met Treasury Secretary Jack Lew on Thursday during the International Monetary Fund and World Bank meetings in Washington.
"One of the needs that we definitely have goes back to converting currencies to pay our suppliers," Seif said. "It requires having access to the U.S. financial system."
Fear of Fines
European banks remain wary. Several were fined for dealing with Iran when the country was under sanctions, with settlements including agreements not to deal with Tehran for a number of years. Iran wants the Office of Foreign Assets Control to rescind those deals.
French bank BNP Paribas SA agreed to pay $8.9 billion in July 2014 for violating U.S. sanctions against Sudan, Cuba and Iran. Germany's Commerzbank AG agreed to pay $1.45 billion for moving funds through the U.S. financial system for Sudan and Iran.
The delay in establishing regular banking relations with major European banks could hold up deals, including Iran's January agreement to buy 118 Airbus planes worth $27 billion. The Iranian government is also campaigning to resume business with multinationals to attract investment.
European Union foreign policy chief Federica Mogherini told the Tasnim news agency in Tehran that the European bloc has been talking to the U.S. about removing hurdles impeding banks trying to work with Iran.
Before it's here, it's on the Bloomberg Terminal.
LEARN MORE