Pro-Brexit Conservatives Insist They Don't Want Cameron's Head
by
EU rebels say Cameron wouldn't have to quit if they win vote

Clarke says prime minister will be gone in 30 seconds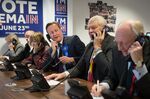 Members of David Cameron's Conservative Party who are campaigning for Britain to leave the European Union insisted the prime minister wouldn't have to resign if they won, after one of his party's most senior figures said he'd have to quit.
Former Chancellor of the Exchequer Ken Clarke told the BBC in an interview broadcast Saturday that "the prime minister wouldn't last 30 seconds if he lost the referendum." In response, Cameron's political opponents rushed to his defense on Sunday.
David Davis, whom Cameron defeated in the race for the Tory leadership in 2005, said the prime minister -- who wants to remain in the EU -- could stay in place so long as he appointed someone else to lead the negotiations for a so-called Brexit. Chris Grayling, one of the Cabinet members who has decided to split with his leader and support leaving the EC, went further.
"I actively want David Cameron to stay, not only because he is a very good prime minister but because he has got the relationships we need around Europe to build a negotiating process," Grayling told the BBC's "Andrew Marr Show." "It would be disastrous in my view for the Leave cause if we vote to leave and then we get distracted by a leadership contest."
While Cameron told Parliament last week that he wouldn't quit if he lost the June 23 referendum, it would be hard to see how a prime minister could remain in the post after being defeated in a national vote on the central issue facing his country.
Uncertain Decade
The government is arguing that a vote to leave the EU would lead to a decade of uncertainty as new trade treaties are negotiated and Britain establishes new relationships with international bodies. The suggestion that the prime minister might go adds to that narrative.
For those in the Conservative Party pushing for a "Leave" vote, the question of Cameron's future is an opportunity to demonstrate to him their loyalty on other matters, something that may be important if he wins and decides to reorganize his team.
The first week of formal campaigning in the referendum will see the government deploying all its resources to argue against a vote to quit. First, the Treasury is to publish its assessment of the risks of leaving. Then, at the end of the week, U.S. President Barack Obama is to visit London and warn against a "Leave" vote.
In an attempt to neutralize that, Grayling argued that Obama "perhaps doesn't understand" the way power has moved from London to Brussels.
French Economy Minister Emmanuel Macron weighed in, arguing that far from diluting Britain's ability to negotiate with countries such as China, EU membership enhances it.
"Today, you are strong because you are part of the EU," he told the BBC. "When you discuss your steel industry with China you are credible because you are part of the EU, not because you are just the U.K. You will be completely killed otherwise."
Before it's here, it's on the Bloomberg Terminal.
LEARN MORE