Saudi Arabia Says Donation to Malaysian Premier Was Genuine
by
Najib has faced pressure to step down over funding scandal

Money appeared in Najib's accounts in 2013 before elections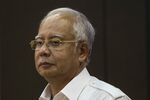 Saudi Arabia said a large donation to Malaysian Prime Minister Najib Razak was "genuine," providing some clarity on the source of the funds amid reports the money came via a Malaysian state investment company.
Saudi authorities were aware of the donation and it came without strings, Malaysia's official news agency Bernama reported, citing Saudi Foreign Minister Adel Al-Jubeir. He was speaking to reporters in Istanbul on Thursday after meeting with Najib during the Organisation of Islamic Cooperation summit.
"It is a genuine donation with nothing expected in return," Al-Jubeir was quoted as saying. "We are also fully aware that the attorney general of Malaysia has thoroughly investigated the matter and found no wrongdoing. So, as far as we are concerned, the matter is closed."
The Saudi comments follow earlier reports by media including the Wall Street Journal that the money came instead from entities linked to 1Malaysia Development Bhd., the debt-ridden state fund whose advisory board Najib chairs. 1MDB, which is selling assets to pare its debt, is the subject of various probes both at home and abroad into its finances.

'Exhaustive Investigations'
"This confirms what the prime minister maintained all along, and what multiple lawful authorities concluded after exhaustive investigations: the funds were a donation from Saudi Arabia," Najib's press secretary Tengku Sariffuddin said in a statement Friday.
Najib is facing his biggest political crisis since coming to power seven years ago amid questions over the $681 million that appeared in his accounts before the 2013 election, which the ruling coalition, in power since independence in 1957, won with its slimmest margin yet. Attorney General Mohamed Apandi Ali in January closed the door on a graft probe of Najib, clearing him of wrongdoing over the "personal contribution" from Saudi royals. 
The premier returned $620 million in August 2013 that was not utilized, Apandi said, without specifying what the rest of the funds were used for. Najib has maintained the funds were not used for private benefit.
Najib allegedly received millions of dollars in his personal accounts between 2011 and 2013 from the Saudi finance ministry and two men identifying themselves as princes from the Middle Eastern nation, the Australian Broadcasting Corp. reported late last month.
Former premier Mahathir Mohamad, the country's longest serving leader who governed until 2003, has waged a public campaign to get Najib out of office. The feud has grown increasingly acrimonious as Mahathir attacked the prime minister over the financial scandals and his economic record.
"This also proves that the wild allegations pushed for one year by Tun Mahathir Mohamad and his Anti-Najib Campaign are completely false," Tengku said.
Before it's here, it's on the Bloomberg Terminal.
LEARN MORE