Bombardier Rejects Aid Proposal From Canadian Government
by and
Struggling firm, Trudeau government at odds over dual shares

Planemaker unlikely to reach agreement before annual meeting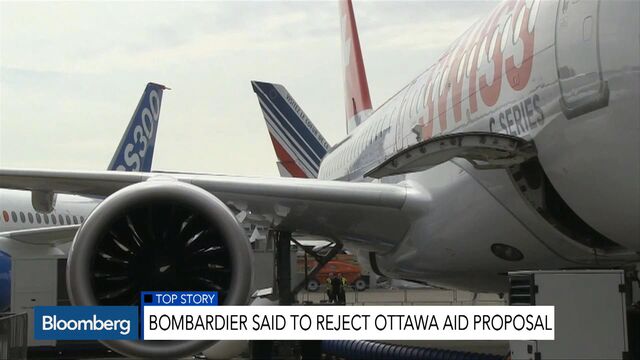 Bombardier Inc. rejected an initial investment proposal from the Canadian government to shore up the struggling planemaker's finances as the two sides remain at odds over corporate governance and other issues, according to people familiar with the talks.
The federal government is seeking a more favorable deal than the one struck by the province of Quebec to support the C Series jet program at the Montreal-based company, officials said, speaking on condition of anonymity as talks continue.
That includes a push to change corporate governance and loosen the founding family's grip on the company in a bid to head-off future bailout requests, the officials said. Barring a major breakthrough, a deal before Bombardier's annual meeting on April 29 is unlikely, they said.
The disagreement is a potential set back for Bombardier just as the train and planemaker is beginning to get traction for its C Series, which has been beset by delays, cost overruns and limited orders. Bombardier is near an agreement to sell as many as 75 C Series jetliners to Delta Air Lines Inc., a deal that would be the largest to date for its struggling aircraft program, a person familiar with matter said Thursday. Delta is seeking options for 50 more of the single-aisle jets, which would come on top of the 45 orders placed by Air Canada in February, with an option for 30 more.
Bombardier's shares fell more than 6 percent on the news, paring earlier gains on the day. The company's shares were up 3.8 percent to C$1.65 at 1:45 p.m in Toronto. The stock has more than doubled from its February record low, though is still down 60 percent in the past two years.
Quebec Support
Quebec has pledged $1 billion for a minority stake in the C Series and called on the federal government to match the offer last year. The government has since been reviewing that request and is said to have brought in Morgan Stanley to assess the deal. Prime Minister Justin Trudeau and his ministers have praised the plane in recent months, calling it a "superlative" and "fabulous" product while saying no final investment decision has been made.
A spokesman for Innovation Minister Navdeep Bains, who is leading the review of Bombardier's request, declined to comment on the government offer. "The discussions are ongoing," Philip Proulx said. Isabelle Rondeau, a Bombardier spokeswoman, also declined to comment.
"We're continuing to work through this," Finance Minister Bill Morneau told reporters in Washington on Thursday. "Canadians expect us to be very careful about anything we do in this area, and so we're going to be."
Dual Shares
Discussions continued as recently as this week. The government has presented its opening proposal, according to people familiar with negotiations, and both sides remain far apart on a deal. The government is prepared to walk away from talks if Bombardier doesn't make concessions, the officials said.
Corporate governance and the company's dual-class share structure remain barriers to a deal, though there are multiple sticking points, the officials said, declining to identify them. Under the dual-class share structure, the founding Beaudoin-Bombardier family controls about 53 percent of its voting rights in the company despite only owning about 13 percent of its equity.
Changes to corporate governance are being sought in part to make it easier for the company to access private funding in the future, rather than turning to governments for aid, an official said.
Complex Deal
Canada doesn't plan to emulate the Quebec deal and instead is pursuing a more complex arrangement that one official nonetheless called an investment. 
The state-of-the-art C Series, with a composite frame and efficient fuel consumption, is more than two years late and more than $2 billion over budget as it nears its commercial debut at Deutsche Lufthansa AG's Swiss International unit in the third quarter.
An order from AirBaltic boosts the C Series' firm-order backlog to 250. Bombardier is 50 aircraft short of its target of 300 by the time the jet enters service. Air Canada, which signed a letter of intent for at least 45 CS300s in February, has yet to turn that commitment into a firm order. Including firm orders, conditional sales and options, Bombardier now has commitments for 678 C Series aircraft.
Before it's here, it's on the Bloomberg Terminal.
LEARN MORE