Putin the Micromanager Focuses on Home Front as Elections Loom
by and
Domestic concerns dominate president's annual call-in show

Putin assures Russians economy will resume growth in 2017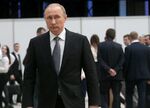 If international confrontations over Ukraine and Syria have dominated Vladimir Putin's third term in the Kremlin, the president focused far more on domestic issues in his latest annual call-in show as parliamentary elections approach.
With Russia enduring its longest economic downturn of his 16-year rule, Putin the micromanager took center stage Thursday to chastise officials over unpaid wages and dilapidated roads, and even pronounce on the size of labeling for products containing palm oil. He assured Russians the economy will resume growth next year and offered understanding for those struggling with soaring food bills, even as he explained that a government ban on imports of foreign foodstuffs was partly responsible for higher prices.
"Putin this year was very focused on domestic issues," Nikolai Petrov, a professor at Moscow's Higher School of Economics, said by phone. "There's a major electoral campaign and people are far more interested in what is happening at home than abroad."
State television said that social issues and the economy dominated the more than 3 million questions submitted for Putin's 14th live call-in show, a Kremlin-controlled exercise that lasted three hours and 40 minutes. Russians enjoyed rising prosperity during Putin's first two presidential terms from 2000, when the economy of the world's largest energy exporter grew at an annual average of 7 percent. The number who fell into poverty in 2015 rose by 3.1 million to 19.2 million, the most since 2006, as wages fell and the ruble tumbled following the collapse in oil prices.
Elections, Economy
Parliamentary elections in September present Putin with his biggest test since he returned to the Kremlin in 2012 after unprecedented protests against him. While his personal ratings remain above 80 percent, the government and regional authorities are becoming targets of popular discontent. 
The difficult situation "hasn't been resolved yet but the trend is positive," Putin said, pointing to forecasts that the economy will contract by 0.3 percent this year and expand by 1.4 percent in 2017. "We have grounds for optimism."
Despite the almost 50 percent plunge in oil prices, Russia is rebuilding its international reserves, which now total more than $387 billion, he said. Unemployment remains low, the Russian leader added.
The central bank sees the economy contracting by as much as 1.5 percent in 2016 and it won't grow faster than 2 percent a year after that without economic reforms, even if oil prices recover to $100 a barrel from around $45 currently, central bank Governor Elvira Nabiullina said Tuesday.
Rapid Results
Putin's domestic engagement produced some speedy results on air. Shortly after he criticized officials when workers at a fish-products plant complained about unpaid wages and poor conditions, one of the show's hosts announced that a criminal case had been opened into the factory. After a woman in the city of Omsk condemned potholes in the roads, a local official pledged that 21 roads would be repaired by May 1.
Even as Putin was promising businesses more relief from official audits and checks, however, law enforcement were carrying out searches at the Moscow offices of IKEA and at billionaire Mikhail Prokhorov's Onexim company. IKEA said the probe related to a local firm seeking to seize land where its Moscow office is located, while the independent Dozhd TV reported that the raid on Onexim was an attempt to pressure Prokhorov into selling his RBC media holding.
Food Prices
People chosen for the studio audience that's also part of Putin's broadcast were given instructions and training after being gathered at a hotel outside of Moscow since Tuesday, Prokhorov's RBC daily reported Thursday, citing people close to the organizers. Questions were screened and dozens of people selected to pose them to the president from among hundreds of participants, it said.
Putin said sanctions imposed on Russia by the U.S. and the EU over the Ukrainian conflict are unlikely to be repealed "for the foreseeable future." He defended Russian countermeasures banning some food imports, saying they created "conditions for the development of our agriculture," after Lyudmila Safronova from Moscow complained that rising prices had doubled the cost of her weekly family food basket to 10,000 rubles ($150) this year.
Putin, who in recent years rallied sentiment against the U.S. and Europe amid the worst stand-off since the Cold War over Ukraine, offered warm words for President Barack Obama, calling him a "decent man" and a "strong person" for his admission that he'd mishandled Libya. Russia needs a "stable, prosperous Ukraine," and has kept to its word over the Minsk peace accords to resolve the conflict, Putin said.
Putin even eschewed a chance to bang the patriotic drum when asked by Alina, a first grader, in a video question whether a woman can become president because "papa says only Putin can deal with that America."
Russians "shouldn't be thinking about how to overcome America," he replied. "We should be thinking about dealing with domestic problems such as roads and making sure the economy will grow. Then we won't need to overcome anyone because we will feel invulnerable."
Before it's here, it's on the Bloomberg Terminal.
LEARN MORE