Art
Feel Like a Billionaire Art Collector With This $8,000 Plate
A new magenta version of Jeff Koons's collaboration with French porcelain maker Bernardaud hits the market.
by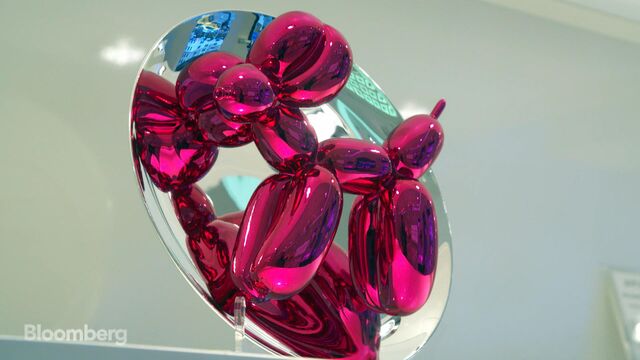 You don't have to be a billionaire to own a Jeff Koons balloon dog. You don't even need a massive estate or your own museum to display it. A version of the $58 million record-setting sculpture is available in a smaller, more affordable size … on a plate.
For the second time, the American contemporary artist is teaming with French porcelain maker Bernardaud to produce a plate adorned with a 3D version of his beloved balloon dog. The dish is 1/10th the size of the original statue. Its production is limited to 2,300, and each dish will sell for $8,000. All net proceeds benefit the Los Angeles Museum of Contemporary Art, which is responsible for selling the collectable.  
"I really wanted to make sure that my edition work was of the highest quality. And I looked to Bernaurdaud," said Koons in an interview with Bloomberg TV's David Gura. "To be able to work with somebody where you have a really reliable-quality product. This was very important to me."

It took five years for Bernardaud to develop the techniques to create a highly reflective transparent coating that was up to Koons's standards. The first balloon dog dish was launched in yellow last year, and the magenta version was just made available.
"We have been extremely pleased with the results," said fifth-generation porcelain maker Michel Bernardaud. "The biggest challenge for us was, in terms of production, to follow the demand."
Plenty of collectors have been pulled in by the allure of owning the miniature pooch. Bernardaud says it has sold two-thirds of the yellow plates and demand for the magenta version is "very good." Before Koons joined forces with Bernardaud, he produced a red balloon dog plate in 1995 and a blue edition in 2002. Both have changed hands on the secondary market. Last year, one of the blue plates sold at Phillips Auction House for $18,000, and a red plate went for $17,500. Just this Wednesday, another red version sold for $14,207. 
"It's nice that it's able to sell at a nice price," said Koons. "But just to have numbers attached to it is not relevant."

(
Corrects name of museum selling the dish in 2nd paragraph.
)
Before it's here, it's on the Bloomberg Terminal.
LEARN MORE