Ackman-Herbalife Feud Gets Fresh Scrutiny at Tribeca Film Fest
By
Documentary 'Betting on Zero' premieres Thursday night

Director of 'Darfur Now' trains his lens on short-selling saga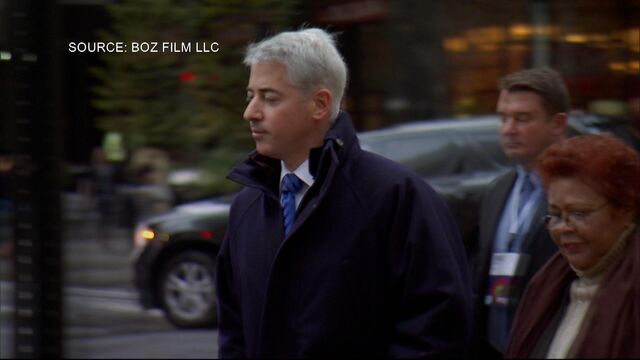 Bill Ackman was so sure that his presentation on Herbalife Ltd. in July 2014 would reveal the company to be an illegal operation and crush its shares that he scoffed at preparing for the alternative.
"The stock is not going up -- it's a certainty," Ackman says to an adviser about half an hour into a documentary on his three-year saga to take down the nutritional-supplement company. "The question is if it opens again."
Ackman was wrong, of course. Herbalife shares surged after the billionaire's presentation failed to scare off investors. This is a scene from "Betting on Zero," which lays out the twists and turns of the battle between Ackman and Herbalife -- the multilevel-marketing company that he targeted with a $1 billion short bet and vowed to shut down. The hedge fund manager says it's a global pyramid scheme that swindles people. Herbalife has aggressively denied that, saying it provides good nutrition and an economic opportunity to millions.
The film, which premieres on Thursday night at the Tribeca Film Festival in New York, casts fresh scrutiny on Herbalife and its business practices. There are no major new revelations or allegations, but it turns the story into digestible viewing for a mainstream audience. The movie, which was previewed by Bloomberg News, is the brainchild of director Ted Braun, whose other feature film is "Darfur Now" -- a documentary about the bloodshed in Sudan.
Ackman Interviews
The film was made and funded without the help of Ackman or his hedge fund, Pershing Square Capital Management, Braun said. He declined to say how much it cost to make. Braun did get access to Ackman, conducting interviews and capturing him backstage at one of his presentations and speaking at a church in Chicago. He said he used material that Pershing Square has made public and found the alleged victims of the nutrition company on his own. Christine Richard, a former journalist who has been a paid investigator of Pershing Square's and an Herbalife critic, also appears in the documentary. Richard previously worked for Bloomberg News.
"Ackman participated in the film, but he had absolutely nothing to do with the financing," Braun said.
A representative for Pershing Square reiterated that Ackman and the company didn't have any role in making or funding the film. Herbalife disputed that notion, saying in a statement that Ackman had hijacked the movie and turned it into an "infomercial." Neither Herbalife nor Pershing Square has seen the film.
Herbalife's CEO
In creating the documentary, Braun met with Herbalife Chief Executive Officer Michael Johnson twice, but the businessman declined to go on camera. Braun said he spent a year unsuccessfully trying to get Herbalife to participate. He also said he asked several Herbalife distributors and other supporters, including billionaire investor Carl Icahn, to be involved. None agreed.
"I don't have an agenda for the film as far as the outcome," Braun said in an interview. "I hope it will stimulate a conversation about multilevel-marketing companies, about short selling and government regulation."
"Betting on Zero" doesn't have a distributor yet. That means its impact on Herbalife, which is being investigated by the U.S. Federal Trade Commission, depends on who buys it and how widely it gets shown.
The film uses media clips and original footage to track the rise of Herbalife under Johnson and Ackman's public barrage, which began in December 2012. It chronicles Icahn becoming an Herbalife investor and his public spat with Ackman, the FTC probe and the company's founding by Mark Hughes. The documentary also explains short selling and Herbalife's business model of using independent distributors -- a cornerstone of multilevel-marketing firms. Short sellers aim to profit from a declining stock by borrowing shares, selling them and then buying them back at a lower price.
Herbalife Sellers
The most negative part for Herbalife might be the profiles of alleged Latino victims in Chicago. There's also a former Herbalife distributor from Oklahoma, a white college graduate who opens a handful of nutrition clubs. He says he eventually realized that he was going to keep losing money and describes Herbalife as a pyramid scheme. He then explains how he quits Herbalife and survives by turning the retail spaces he's rented into vape shops.
The picture of Ackman is mixed. The film rehashes attacks from Icahn, who invested in Herbalife after Ackman publicly shorted the stock. It also uses critiques from Herbalife executives made during television appearances. William Cohan, a contributor to Vanity Fair and Bloomberg Television, describes Ackman as arrogant and driven, with a mastery of exploiting the media for his own gain.
'A Predator'
The film focuses on the feud between Ackman and Johnson. They square off at the beginning of the movie, and it ends with a back-and-forth sequence that includes Ackman saying at one of his public presentations that Johnson is "a predator" running a "criminal enterprise." Then the film cuts to Johnson saying that Ackman "only cares about being the richest man in the world, and to me that's a very sad, sad pursuit."
After spending almost three years making the movie, Braun declined to weigh in on who is right.
"I've taken the path of an independent, thoughtful, nonaligned documentary perspective," Braun said. "For me to say at this point whether it's a pyramid scheme or not would blow that out of the water. Ultimately, the Federal Trade Commission will determine an answer to that."