Canadian-Born Cruz Gets Eligibility Suit Tossed by Judge
Erik Larson and Laurel Brubaker Calkins
Presidential candidate says he's a `natural-born' citizen

Case filed by Houston lawyer who says he fears election chaos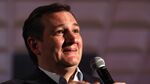 A federal judge in Texas threw out a challenge to Republican presidential candidate Ted Cruz's eligibility to serve if he wins, saying there's no legal basis to question the senator's status as a "natural-born" U.S. citizen.
U.S. District Judge Gray Miller dismissed the case Wednesday in Houston, saying the plaintiff, Newton Schwartz, an attorney who represented himself, lacked standing. Similar suits have failed in New York, Illinois and Florida.
"You just want me to make a decision one way or the other," the judge said to Schwartz. "And quickly," Schwartz replied. "We want to get to New Orleans as fast as we can," he said, referring to the U.S. Court of Appeals in New Orleans.
A Utah man behind a similar case in Salt Lake City last week became the first to ask the U.S. Supreme Court to weigh in on the ramifications of Cruz's birth in Canada to an American mother after a federal judge threw out his claim on the grounds that he hadn't been personally harmed by Cruz.
The issue of Cruz's birth gained traction after Republican front-runner Donald Trump questioned the Texas senator's eligibility in televised interviews. The real-estate mogul argued the uncertainty could lead to a years-long court battle if Cruz won the Republican nomination, though many legal experts contend Cruz is eligible because his mother was an American citizen.
In the Texas case, Cruz argued the court system shouldn't "entangle itself in a political controversy" and should steer clear of an issue the Founding Fathers reserved for Congress. "The Constitution commits decisions about presidential eligibility to the House of Representatives and the Electoral College," the senator's lawyers said in court filings.
'Personal Stake'
Cruz also argued that Schwartz hadn't demonstrated any "personal stake in the outcome" of the case. "He vaguely intimates that federal courts exist to settle citizens' disagreements about constitutional questions," the lawyers said in a court filing. But at best, they said, the Houston lawyer "brings a generalized grievance that, were there any merit to it, the public at large would share."
Schwartz, portraying the fight as a matter of national urgency, argued courts should determine Cruz's eligibility to serve as president now to avoid dumping a post-election decision into the lap of the Electoral College or a lame-duck Congress in December.
Cruz's continued rise in the polls adds urgency to the fight, Schwartz said in an interview. "He's been gaining delegates in places where it wasn't expected; even in states he loses he comes out with a third of the delegates," Schwartz said. "What if Cruz is elected and a court determines then he's not eligible? It's going to be chaotic."
If the courts "kick the can down the road" and let politicians with questionable allegiances decide after the November election, those proceedings will "come far too late" and lead to "predictable chaotic results," Schwartz argued.
Schwartz pointed to the messy court fight that dragged out the 2000 presidential election between Democrat Al Gore and Republican George W. Bush as an example of what he hopes the country can avoid. The U.S. Supreme Court decided that contest weeks later by a 5-4 vote, which many Americans still refuse to accept.
The case is Schwartz v. Cruz, 4:16-cv-00106, U.S. District Court, Southern District of Texas (Houston).