Argentina Wins Court Ruling Letting Bond Sale Proceed
by and
Federal appeals panel rejects funds' bid to halt debt payments

Country has reached deal that allows return to credit markets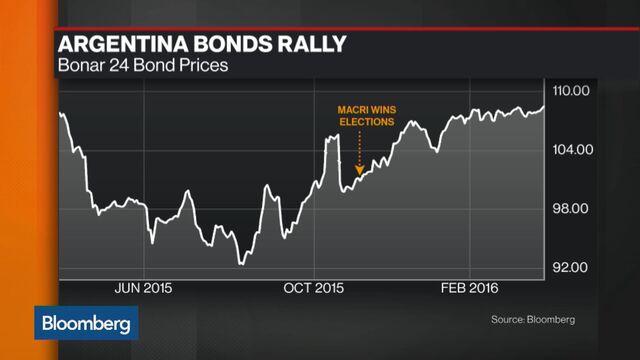 Argentina can go ahead with a planned $15 billion bond sale to pay off holdout creditors from a 2001 default, ending more than a decade of litigation over repayment of the debt that kept South America's second-biggest economy out of international credit markets.
The U.S. Court of Appeals in New York Wednesday cleared the way for the bond sale by upholding a judge's ruling that allows the republic to repay the holdout creditors, including Elliott Management. Government officials have held meetings with potential investors in New York and London this week ahead of the sale. The country hopes to issue bonds within a week, Finance Minister Alfonso Prat-Gay told reporters in New York on Tuesday.
The ruling puts an end to a long and bitter court battle that had both blocked Argentina from paying holders of its restructured debt and from issuing new bonds. Argentina and the U.S. government had urged the court to allow the deal to proceed.
A panel of three judges ruled for Argentina less than a half hour after hearing arguments in the appeal. Lawyers for Paul Singer's Elliott Management and Aurelius Capital Management urged the court to reverse a judge's decision to drop orders barring Argentina from making payments on its restructured debt before paying off the defaulted bonds.
Argentina's benchmark defaulted bonds due 2033, which trade with accrued interest, climbed 2.2 cents to a record 123.82 cents on the dollar at 4:15 p.m. in New York following the court's decision, while Argentina's benchmark stock index rose to a five-week high.
Argentina plans to start receiving offers for the bonds on Monday, sell the bonds on Tuesday and pay the holdouts on Friday, according to Finance Minister Prat-Gay. The proceeds from the $15 billion bond sale will be used to pay the holdouts, to pay the past due interest to restructured bondholders and for infrastructure projects in Argentina.
Payment Deadline
The ruling came a day before a payment deadline that gave Elliott Management and three other hedge funds the option to back out of their historic $4.65 billion settlement with Argentina. Lawyers for Elliott Management and Aurelius Capital Management told the judges they won't cancel the agreement if they're paid soon.
Events unfolded quickly following the election of Argentine President Mauricio Macri in December -- which U.S. District Judge Thomas Griesa said "changed everything." Macri's predecessor, Cristina Fernandez de Kirchner, had refused to negotiate with creditors and Argentina frequently defied the orders of U.S. judges, all while using those courts to try to avoid paying bondholders.
Macri's administration made a public offer in February to pay as much as $6.5 billion to settle $9 billion in holdout claims. That allowed any defaulted bondholder to settle for the original principal of their bonds plus 50 percent. It included additional options for bondholders whose cases were covered by the court injunctions or who held court judgments against Argentina.
Griesa said last month that he will drop orders barring Argentina from paying holders of its restructured debt or from issuing new bonds until it paid a group of bondholders. Those investors included Elliott Management, which had sued to collect in full.
Losing Leverage
Yet right after reaching the settlement, the largest holders of defaulted Argentine bonds sought to reverse the judge's decision, arguing that Griesa's ruling would leave them without any leverage if Argentina failed to pay them by April 14. A separate group of creditors also asked the federal appeals court to overturn the ruling.
Griesa's order and the settlements depended on Argentina passing legislation that would allow the agreements and pay off all the bondholders that settled their claims by Feb. 29. The republic passed the law but has yet to pay the investors.
The appeals court Wednesday instructed Griesa to make a specific finding that the settling bondholders have been paid before formally dissolving the injunctions.
Argentina defaulted on a record $95 billion in 2001, disrupting international credit markets and setting up bitter fights with its disappointed creditors. About 92 percent of bondholders agreed to exchange their debt for new bonds, at a discount of about 70 percent, in restructurings in 2005 and 2010.
The case is Aurelius Capital Master Ltd. v. Republic of Argentina, 16-628, U.S. Court of Appeals for the Second Circuit (New York).
Before it's here, it's on the Bloomberg Terminal.
LEARN MORE