Princeton Ends Sprint Football Program That Hasn't Won Since 1999
Citing safety -- and performance -- the university president called an end to the school's varsity lightweight football program.
by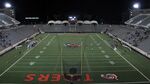 Princeton University called an end to the school's varsity lightweight football team, an idiosyncratic but beloved feature of the Tigers' athletic program. Citing the team's performance -- it has lost 106 games in a row -- and a high rate of head injuries, university president Chris Eisgruber announced the decision Monday in an e-mail to the team's alumni.
"The risk of concussion and catastrophic injury is a major concern of ours and the medical staff advising us, and it is directly related to both the team's inadequate roster size and the fact that too many of our players have much less football experience or athletic training than players from other schools in the league," Eisgruber said.
In 2009, I was one of those players. With absolutely zero football experience, I walked on to a team that desperately needed willing bodies. I never suffered any serious injury, but I thought about it a lot and saw it happen to more than a few of my teammates.
That season we lost 57-0 to Army and 44-0 to Cornell. In my final home game, we hosted the University of Pennsylvania and fell behind 51-7 at halftime. Searching for motivation in the locker room, our head coach asked us if we wanted to waste time on the field to keep Penn from reaching 100 points. We didn't, and they didn't: We lost 91-13.
My chance to play college football was rare. An 11-on-11 competition with a 172-pound weight limit, lightweight, or sprint, football is a varsity sport at only a handful of Northeast schools, including Army, Navy, Penn and Cornell. In 1934, Princeton was an inaugural member of what's now the Collegiate Sprint Football League and has played every year. The program is one of only three at the New Jersey school that covers its own costs with alumni donations.

But it has been downhill since 1996, when the university stopped giving admissions preference for sprint football recruits. Eisgruber said Monday that he wouldn't reverse that decision. I understand where he's coming from. No matter how much support is thrown its way, Princeton sprint football will never be as successful or notable as lacrosse or squash. University spokesman Daniel Day didn't immediately respond to a message seeking comment on the e-mail. Eisgruber and Athletic Director Mollie Marcoux also didn't return calls. 
Still, hundreds of alumni will be sad to see the team go. Many of these are the same men who play each fall in the program's alumni game, when former (and, now, much heavier) Tigers face the current squad. This year, our middle linebacker and defensive captain was from the class of 1976.
In a recent discussion with school officials about the future of the athletic department, a number of Princeton grads -- some athletes, some not -- worried that the high-profile success of the Harvard men's basketball team would encourage Princeton to put too much emphasis on winning. "You can learn a lot by losing" became a mantra in the room. Sitting in the back of the room, I smiled. Most of those people had no idea.
Before it's here, it's on the Bloomberg Terminal.
LEARN MORE