CREW's Watchdog Status Fades After Arrival of Democrat David Brock
Republicans have faced the vast majority of campaign finance allegations from CREW in recent months.
By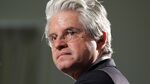 For more than a decade, Citizens for Responsibility and Ethics in Washington, or CREW, has scrutinized and assailed federal agencies and politicians from both parties to root out unethical behavior in government. Over the past two years, however, some of the group's most influential work has been quietly dropped.