The Impossible Project Debuts Its I-1 Instant Camera
Oskar Smolokowski keeps the Polaroid dream alive.
By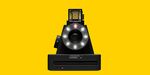 This morning, onstage at Bloomberg Businessweek's annual design conference, the Impossible Project CEO Oskar Smolokowski revealed the I-1 camera, a revamp of the classic Polaroid instant format that packs the original's analog pleasures into a sleek digital package.

The camera itself is designed for simplicity of use: there are few buttons and no knobs, and even the LED flash circling the lens auto-adjusts to ambient light and distance. A companion app gives users more control, however. While connected via Bluetooth, the app can be used to adjust aperture, shutter speed, and flash settings; remote trigger the camera; and includes pre-sets for effects like double exposures and open-shutter "paint with light"-type images. It shoots on Impossible Project's type 600 film, painstakingly reverse engineered from Polaroid's discontinued 600-type film—which, if you can find it, also works in the I-1. Although it hews closely to its vintage inspiration, the I-1 did make one major engineering change. Whereas Polaroid's cameras were powered by a battery that came in each pack of film, the I-1 has a USB-rechargeable battery, cutting down significantly on waste and cost.

Speaking of cost: At $299, the I-1 is comparable price-wise to a good quality vintage Polaroid camera, and costs slightly more than the Instax, another popular instant-developing camera made by rival Fujifilm.

Before it's here, it's on the Bloomberg Terminal.
LEARN MORE