How Japan Became a Hedge Fund Wasteland
by and
Industry booms in Hong Kong, Singapore while Tokyo stagnates

Japan asset managers seen boosting allocations to hedge funds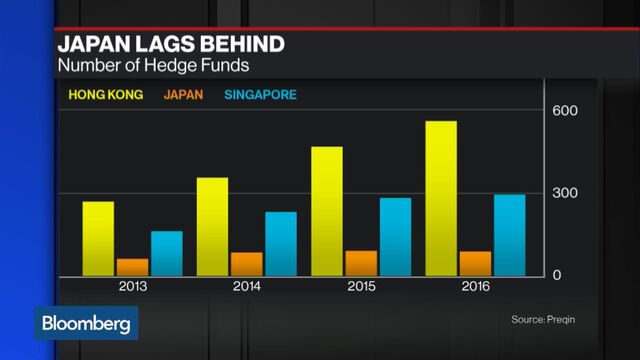 Demand for hedge funds is about to skyrocket in Japan, but don't expect supply to follow suit.
So says Ed Rogers, head of Rogers Investment Advisors, who kept his business alive in Tokyo when the financial crisis forced many of his peers to shut down. Negative interest rates are set to accelerate flows into alternative investments as giant institutions such as the $1.3 trillion Government Pension Investment Fund and the Japan Post companies seek higher returns. The problem, according to Rogers, is that anyone starting a hedge fund to win a slice of those assets would be crazy to do so in Japan.
A regulatory environment that's unfriendly to business and a culture that looks down on risk-taking means no sensible startup would choose Tokyo over Hong Kong or Singapore, he says. Plus, Japan's corporate tax rate is almost twice as high. The number of Japan-based hedge funds has barely budged over the past four years, while those in Asia's two biggest financial centers roughly doubled.
"If nothing else changes, that number won't change," said Rogers, who says his firm branched out from fund-of-hedge-funds business after the financial crisis and now manages or provides support for about $1.5 billion in assets. "Change the tax structure. Change labor standards. Set up a special economic zone where you can hire and fire," he said in an interview in Tokyo. "If you run a small business, you've got to be as efficient as possible. Survival demands it."

Just 94 of the world's 15,438 hedge funds called Japan home at the end of last year, according to Preqin Ltd., even though the nation's bond and stock markets rank No. 2 and No. 3 respectively in size. The money managed globally by such funds swelled to $3.2 trillion as of November, showing both the prize on offer and also the gap Prime Minister Shinzo Abe needs to bridge as he seeks to turn Tokyo into a global financial hub.
Rogers' personal estimate of the number of hedge funds in Japan is even smaller than Preqin's. He says there are no more than 40, down from at least twice that amount before the financial crisis. Some 57 Japan hedge funds closed in 2008 alone, according to Eurekahedge Pte. Others, such as Effissimo Capital Management Pte., invest in Japan from Singapore.
"A lot of people went out of business," Rogers said. "You had to change your business to survive."

Japan's corporate tax rate of 33 percent for the last fiscal year compares with 17 percent in both Hong Kong and Singapore, while the highest individual income levy is 51 percent, versus 15 percent in Hong Kong and 20 percent in Singapore, according to KPMG.
Not only that, it costs about 10 times as much to get a hedge-fund license in Japan, labor laws make it difficult to let staff go or lower their salaries in difficult times, and the country is unwelcoming to entrepreneurs in many ways, Rogers says. He gives the example of having to pay a one-year rent deposit for his office, compared with about two months in Hong Kong. The culture in Tokyo also discourages standing out.
"This is a very anti-risk society, and that's going to have to change," Rogers said. "And you have to have reward. A very punitive, skewered, socialist tax structure does not reward you for making $50 million if they're going to take half of that away."
Japan under Abe has taken steps to become more business friendly. The corporate tax was cut for the fiscal year starting this month, while the premier says he'll lower it into the twenties over several years. In 2014, the country established special strategic zones for testing looser regulations. And the Topix index was up 53 percent from when the premier came to power through Monday, buoying returns for long-focused asset managers. The benchmark gauge added 1.5 percent in Tokyo on Tuesday.

Rogers held on in Tokyo by branching out from his fund-of-hedge-funds and seeding businesses -- essentially acting as a venture-capital backer of new managers -- into providing "chief operating officer in a box" services for other funds. This can be anything from taking care of dealings with fund administrators and prime brokers to reporting and disclosure.
Assets managed by his own fund-of-hedge-funds business, which raises capital and invests it in a portfolio of hedge-fund managers, dropped from a peak of $150 million to as low as $30 million in 2012.
Rogers says the Bank of Japan's negative interest-rate policy represents the biggest opportunity for alternative managers in years. Since the central bank's decision in January, yields on sovereign bonds as long as 12 years have fallen below zero, forcing long-term asset managers such as retirement funds to consider riskier investments.
Japan Post Bank Co. said in January it wants to put several trillion yen of its $1.9 trillion portfolio into assets such as private equity and hedge funds over the next five to 10 years. In a 2014 strategy revamp, GPIF decided it could put as much as 5 percent of its holdings into alternatives, though it hasn't invested in hedge funds.
Dramatic Change
"Things have changed dramatically because of Japan Post, GPIF and these huge pools of money that are coming online," said Chris Wells, a lawyer specializing in hedge funds at Morgan Lewis & Bockius LLP in Tokyo. Still, there's far heavier interest in raising assets in Japan than actually trading in the market, he said.
To be fair, hedge funds in Japan aren't the only ones struggling. Managers globally are grappling with rising costs, investors' preference for larger firms, and a push for lower fees amid deteriorating performance. More than 800 hedge funds closed globally last year in a trend that has been apparent for at least five years, according to data from Eurekahedge. And the community across Asia remains comparatively small. Asia-Pacific funds oversee $159 billion, or about 5 percent of the global total, Preqin said.
While Rogers himself plans to stay in Japan, he says something big must change for the Japanese money he expects to flow into hedge funds to be actually managed in Tokyo.
"Japan is just simply unfriendly as a home for startups," he said. "If you want to start up in Singapore or Hong Kong, they love you."
Before it's here, it's on the Bloomberg Terminal.
LEARN MORE