Belgium Charges Two With Terrorism, Chips Away at Jihadist Group
by
Charges filed over Paris, Brussels attacks after latest raids

Investigators not yet sure if Abrini is `man in the hat'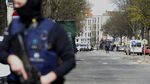 Belgium charged suspects in the terrorist attacks in Paris and Brussels, continuing to chip away at a jihadist network operating out of safe houses in Brussels.
Prosecutors on Saturday charged Mohamed Abrini in connection with the Nov. 13 attacks in Paris and a man identified as Osama K. as an accomplice in last month's Brussels subway bombing. Both were arrested in Brussels on Friday.
Police raided a suspected terrorist hideout near a former military barracks in Brussels on Saturday but "no weapons or explosives were found," the Belgian federal prosecutor's office said in an e-mailed statement.
The investigation into the March 22 blasts at Brussels airport and a downtown subway, which killed 32 people, kicked into a higher gear after police on Thursday released security videos that traced the path taken by the third airport bomber on foot toward downtown Brussels.
Investigators said Saturday that they have yet to establish whether Abrini is the third bomber, known as the "man in the hat" on the surveillance footage.
Two others arrested on Friday were charged with offering assistance to Abrini and Osama K. They were identified as Hervé B.M., a 25-year-old citizen of Rwanda, and Bilal E.M, 27, whose nationality wasn't given.
Two other people detained Friday along with Abrini were released.
Before it's here, it's on the Bloomberg Terminal.
LEARN MORE