Democratic Strategists Exhale as Clinton-Sanders Tensions Cool
The return to civility serves as a reminder that the Democratic Party is, overall, in healthier shape than the GOP, at least on the presidential level.
By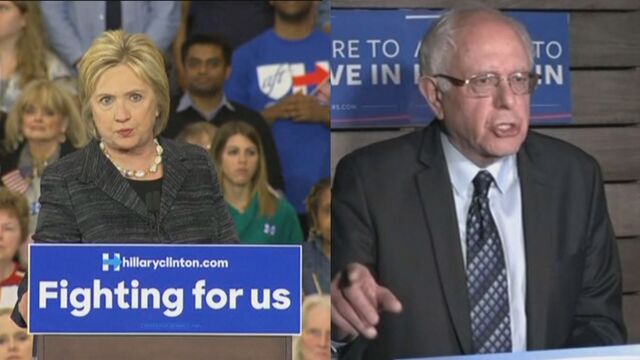 Tensions between Hillary Clinton and Bernie Sanders cooled on Friday when the Vermont underdog said "of course" Clinton was qualified to be president, walking back the attack he unleashed on Wednesday night.
"On her worst day, she would be an infinitely better president than either of the Republican candidates," Sanders said on NBC's Today show. He then urged reporters to focus on "real issues" rather than attacks.
Further lowering tensions was Sanders strategist Tad Devine, who said the senator would "do everything to make sure that the next president is a Democrat" in an interview with the Washington Post Plum Line blog. "Bernie understands that having someone like Trump or Cruz become president of the United States would be destructive to the future of this nation," he added.
The remarks came after a heated 24-hour stretch when Sanders refused to back down from his comment that Clinton was not "qualified," despite demands from her camp. 
Clinton, who said Thursday morning in New York that she'd prefer Sanders to Trump or Cruz anytime, seemed content with her rival's change of heart.
"We are glad Senator Sanders reversed himself," Clinton campaign spokesman Brian Fallon said in an e-mail. "To call Secretary Clinton unqualified was absurd on its face, but if he persisted in that attack, it would have been dangerous in its potential to spark disunity in the Democratic party."
Democratic strategists breathed a sigh of relief.
"Judging from the candidates' comments this morning, the gloves are back on. Democrats will be united in the fall: Donald Trump and Ted Cruz will make sure of that," said Paul Begala, who advises a pro-Clinton super-PAC, in an e-mail. "I would also note that, after millions of dollars and thousands of ads, neither Hillary nor Bernie has run a single attack ad. Not one. So I think fears of a Democratic rupture are overblown."
The return to civility serves as a reminder that the Democratic Party is, overall, in healthier shape than the GOP, at least on the presidential level. Republicans are facing the prospect of their first contested convention since 1976, deeply split between a nationalist and nativist wing supporting Trump and a populist conservative faction rooting for Cruz, neither of whom are well-liked by the party's establishment.
"The cleavages inside the Democratic Party are not comparable to what we're seeing in the Republican Party right now. You know, the argument inside the Democratic Party is a little bit more about means, less about ends," President Barack Obama said Thursday at the University of Chicago Law School, arguing that Clinton and Sanders share the same goals on big issues.
Obama said there is, however, a "populist impulse" on the Democratic side that is partly healthy and partly dangerous—if it leads to a shutting out of other viewpoints. In a possible, albeit subtle, dig at Sanders' message, the president said it's not "useful" to paint those with different points of view as necessarily "a sellout" or "corrupted."
Sanders has sharpened his critique on Clinton in recent weeks, as his obstacles pile up in the race to gather a majority of delegates. He has questioned whether Clinton can accept campaign contributions from Wall Street and fossil fuel companies now and get tough on them later, which Clinton viewed as an attack on her character and integrity.
Divisions in the party linger. A McClatchy-Marist poll released Wednesday found that a potentially devastating 25 percent of Sanders' supporters say they wouldn't support Clinton in a general election, with 69 percent saying they would.
However, if the 2016 Democratic primary plays out like the one in 2008, Clinton can count on those hardcore Sanders supporters to change their minds.
In March 2008, a Gallup poll found that 28 percent of Clinton supporters would back eventual Republican nominee John McCain over Obama. That May, an exit poll found that half of Clinton's supporters in Indiana said they wouldn't vote for Obama if he were the Democratic nominee. The divisions gave way to Obama winning in a landslide with solid Democratic Party support, including in Indiana, a Republican-leaning state.
"I worked hard to unify the party when I dropped out in 2008 and endorsed then-Senator Obama, and I think it's important we unify the party because the real test will be in the general election," Clinton said Friday at a campaign stop in Buffalo, New York. "I can't imagine what would happen to our country if, you know, Donald Trump or Ted Cruz were elected."
She said Sanders calling her unqualified was "silly."
Joe Trippi, a Democratic consultant and presidential-campaign veteran, isn't worried about disharmony.
"In 2008 everybody was very concerned that if [the Obama-Clinton fight] kept up the party would be split and we'd lose the election in November," he said in a recent interview. "None of that happened—it  turned out to be one of the biggest victories the party has had, even though it was a feisty primary fight."
—With assistance from Margaret Talev in Buffalo, New York.