Fighting Words
Obama Warns of Rancor As Sanders, Clinton Trade Barbs
With the crucial New York primary less than two weeks away, the Democratic presidential candidates have ratcheted up their rhetoric.
By and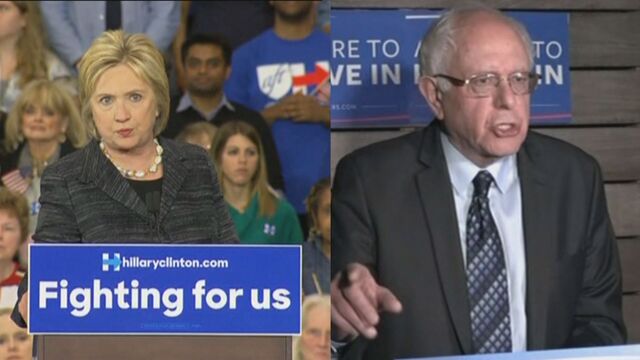 With the stakes rising ahead of New York's Democratic primary, Hillary Clinton and Bernie Sanders escalated their fight for votes by casting doubt about each other's fitness for the White  House.
Sanders on Wednesday said Clinton isn't "qualified" to be president after the former secretary of state questioned Sanders's grasp of issues that are at the core of his campaign, including stricter oversight of Wall Street.
The spat prompted President Barack Obama to weigh in, saying the divisions among Democrats are "more about means rather than ends.'' Yet without naming either candidate, he said the party needs to be on guard against the kind of rancorous campaign that has enveloped the Republican presidential race.
"The cleavages inside the Democratic Party right now are not comparable to what we're seeing inside the Republican Party right now," Obama said in response to a question during an appearance at the University of Chicago.
The New York primary on April 19 is setting up as a firewall for Clinton's bid for the Democratic nomination after Sanders scored six victories in caucuses and primaries since the middle of March, including a 13-point win in Wisconsin on Tuesday.

For Sanders, New York's 247 delegates, to be divided on a proportional basis, offer a last chance to narrow the long odds he faces in trying to catch up to Clinton in the nomination race.
During a rally at Temple University in Philadelphia, Sanders listed Wall Street donations to Clinton's super-PAC, as well as her support for past trade deals and the war in Iraq, as reasons why she didn't meet the requirements for the job.

"She has been saying lately that she thinks I am not quote unquote qualified to be president," the Vermont senator told a crowd of about 9,000 people, along with about 3,900 watching in an overflow room. "Let me just say in response to Secretary Clinton: I don't believe that she is qualified if she is, through her super-PAC, taking tens of millions of dollars in special interests' funds."
Sanders' remarks followed statements by Clinton in which she questioned some of the answers he gave in a recent interview with the editorial board of the New York Daily News. Sanders drew criticism over the interview for a lack of specificity on subjects ranging from the Israeli-Palestinian conflict to breaking up too-big-to-fail banks. 
Clinton said on MSNBC that it seemed like Sanders "hadn't done his homework." But she declined to directly answer the question of whether he was qualified for the  presidency, saying it was up to voters "to decide who of us can do the job that the country needs, who can do all aspects of the job, both on the economic domestic issues and on national security and foreign policy."
In a fundraising e-mail to supporters before Sanders' Philadelphia rally, his campaign manager, Jeff Weaver, called Clinton's comments "the first part of the new 'disqualify him, defeat him and then they can unify the party later' strategy."
"We knew they were getting nervous, but candidly, we didn't think they would go this negative so quickly," he wrote.
On Thursday, Clinton tried to turn the tables on Sanders by shifting to the Republicans running for president.

"I don't know why he's saying that,'' she said of Sanders comments on her qualifications during an appearance in the Bronx. "But I will take Bernie Sanders over Donald Trump or Ted Cruz any time. So let's keep our eye on what's really at stake in this election. ''
Clinton's allies and the White House rose to her defense on Thursday. While Obama has remained publicly neutral in the race, deputy press secretary Eric Schultz told reporters that the president "has said that Secretary Clinton comes to this race with more experience than any non-vice president'' in recent history. He declined to comment specifically on Sanders' remarks.
Missouri Senator Claire McCaskill, a prominent Clinton surrogate, said Sanders' comments were "like fingernails on a blackboard to many women."
"I think women who have succeeded in male-dominated fields have been used to being marginalized about whether or not they are truly qualified," McCaskill said on MSNBC.
Clinton press secretary Brian Fallon suggested on Twitter that the self-described democratic socialist's comments and other recent moves by his campaign reflect the desperation of a losing bid. 
The Sanders campaign, however, appeared to be doubling down on his remarks. An evening press release highlighted his comments, including his criticism of Clinton's support for the Panama free trade agreement as secretary of state, which Sanders said "has made it easier for wealthy people and corporations all over the world to avoid paying taxes owed to their countries."
Three hours after Sanders made his comments at Temple, the Clinton campaign used his words in a fundraising appeal. "This is a ridiculous and irresponsible attack for someone to make—not just against the person who is almost certainly going to be the nominee of their party this November, but against someone who is one of the most qualified people to run for the presidency in the HISTORY OF THE UNITED STATES," an e-mail signed by deputy communications director Christina Reynolds said.
While the candidates have taken pride in the fact that their contest has focused on issues rather than personal attacks, the latest salvos foreshadow a more negative phase heading into the New York primary. A loss, or even a narrow win, in Clinton's adopted home state, which she represented in the U.S. Senate, may raise questions about the strength of her support within the Democratic Party. 
During an election-night speech celebrating his Wisconsin win on Tuesday, Sanders said he has an "excellent" chance of winning New York. He plans to campaign aggressively there and his campaign has looked to tailor its message by polling on which policy distinctions will work best with voters. A March 31 Quinnipiac poll showed Clinton leading Sanders in the state by 12 percentage points. 
The consolation for Clinton is that it would take a landslide Sanders victory to change the delegate math. After Tuesday's election, Clinton has 1,279 pledged delegates to Sanders' 1,027, according to an Associated Press tally. When superdelegates -- party officials and leaders who can back any candidate -- are included, Clinton's lead is 1,749 to Sanders' 1,061, with 2,383 needed for the nomination. 
With reporting by Angela Greiling Keane