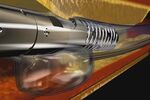 Innovator: John Simpson
Age: 72
Medical doctor and chairman of Avinger, a 200-employee medical-device company in Redwood City, Calif.
Form and function
The Pantheris catheter's laser camera lets surgeons see inside blood vessels as its cutting instrument is removing fatty deposits, making it much safer than conventional methods of treating peripheral arterial disease (PAD).
Origin
Simpson founded Avinger in 2007, partly in search of a way to limit the number of arteries damaged by surgeons dependent on external X-rays.
Funding
Avinger raised more than $100 million in private investment before its $60 million initial public offering last year.

1. Exam
A surgeon inserts the single-use catheter into a patient's artery. A camera near the front of the device uses laser light to create video images with the help of a computer and monitor plugged into the device.

2. Clearance
While viewing the monitor, the surgeon guides the catheter to a blocked area and manipulates the tool at its tip to remove plaque.

Market
PAD afflicts 1 in 20 Americans older than 50, the National Institutes of Health estimates—about 5.4 million people. The disease typically causes leg pain and increases the risks of heart attack and stroke.
Early tests
Clinical trials involving more than 300 patients have resulted in zero blood vessel damage, Simpson says.
Next Steps
The U.S. Food and Drug Administration cleared Pantheris for PAD treatment in October. Simpson says Avinger is working to make the device smaller and softer so it can also be used to treat the especially delicate coronary arteries. "Pantheris is a major upgrade," says Thomas Davis, a doctor treating cardiovascular disease at St. John Hospital & Medical Center in Detroit. He calls it "a game changer for patient care."
Before it's here, it's on the Bloomberg Terminal.
LEARN MORE