Dog DNA Testing Gets Its Day
"We can trace the … line back to the dawn of dogs."
By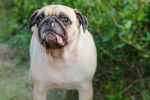 For Ryan and Adam Boyko, dog drool is a family business. Over the past decade, the brothers have traveled the globe, fetching thousands of saliva samples from pups in Croatia, Fiji, India, Peru, Qatar, Uganda, and a dozen other countries. They carried the samples back to Adam's genetics lab at Cornell University, where they scoured the DNA for clues about the history and evolution of man's best friend.
Now the Boykos want to expand the pack. By the end of spring, they say, their new canine genetics company, Embark Veterinary, will begin selling testing kits designed to give U.S. dog owners scientific insight into their pets' health, behavior, and ancestry. (Think 23andMe for the furry, four-legged set.) Using that data, the company also plans to learn more about overall canine health and behavior. "We're interested not only in returning information to owners, but actually improving the way dog genetic research is done," says Adam, Embark's chief science officer and an assistant professor at Cornell's veterinary college, the startup's research partner.
Embark's $199 genetic test will screen dogs for more than 200,000 genetic markers and report the results to owners through its website or app. The data will include details about dozens of physical traits, like how much a puppy is likely to shed and its predicted adult size, as well as its risk for more than 100 different medical conditions. Embark will also determine the dog's breed composition and geographic origin. "We can trace the paternal and maternal line back to the dawn of dogs," says Ryan, chief executive officer.
Embark's app will survey customers about their dogs' lives, behaviors, and medical histories. As its customer base grows, Embark plans to sift through this data in search of new connections between DNA and health or behavior. Is there a certain genetic variant that aggressive dogs tend to share? Do yappers have different DNA than howlers? "We know absolutely nothing about the genetics of barking," says Adam. Customers will receive updates about new discoveries, says Matt Barton, chief technical officer.
The company's research could also have implications for human medicine. Many of the genetic mutations that underlie common dog diseases—from cancer to compulsive disorder—have been linked to similar conditions in people. And thanks to generations of selective breeding, a small number of genes explains much of the variation between individual dogs, which means it's often easier to identify the genes responsible for complex traits in dogs than it is in humans.
After licensing their initial sample database from Cornell, the Boyko brothers incorporated Embark last year. Co-founders include geneticist Spencer Wells, who led a decade-long study of human migration based on DNA samples, and Ryan's college buddy Matt Salzberg, CEO of subscription-meal company Blue Apron. Embark, which has eight employees and is based in Austin, has raised $1.8 million in venture funding to further refine its products. With more than 70 million pet dogs in the U.S. and some 7 million new pups acquired each year, the service's potential market is huge.
Like the 23andMes of the world, Embark is stopping shy of providing medical advice. It's not giving diagnoses and encourages customers to discuss test results with their vets. It's also not the first to pitch consumers on canine genetic tests. Paw Print Genetics sells a $150 kit that screens dogs for more than 150 different diseases and traits. CEO Lisa Shaffer says Embark's model is interesting, but it isn't clear whether the company's priority will be research or returning useful information to owners. Embark says its depth of data analysis, along with the app and its more thorough testing panel, set it apart from cheaper rivals, which also include Mars Veterinary and DNA My Dog.
Later this year, the Boykos plan to add features that allow customers to connect with other dog owners whose pets have similar genetic backgrounds, behavioral traits, or medical problems. Eventually, the company expects to link up with breeders to help them make matches that reduce the likelihood of puppies inheriting disease-causing mutations in the first place. "We would like to be doing research that's benefiting, ideally, millions of dogs," Ryan says. Including, perhaps, those that haven't been born yet.
The bottom line: Embark says its DNA test can assess a dog's risk for more than 100 different medical conditions.
Before it's here, it's on the Bloomberg Terminal.
LEARN MORE