Benetton Heir Alessandro Goes It Alone With Private Equity Firm
by
Luciano Benetton's son has no plan to return to clothing group

His private equity investments range from wine to health care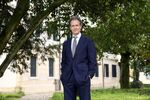 Alessandro Benetton, an heir to the billionaire family that owns the iconic Italian clothing company, is going it alone -- again.
The second of four children of Luciano Benetton, who founded the retailer with his siblings 50 years ago, wants to expand his own private equity firm rather than help manage the family's fashion business. Alessandro, 52,  headed the family's Formula One team in the 1990s -- winning two driver championship with Michael Schumacher -- and then chaired parent company Benetton Group for two years until 2014, when the family named two external managers to run the namesake businesses.
"I'm proud to have chosen in my 20s, in the golden years of our family business, to become an independent entrepreneur creating one of Italy's first private equity firms because it was also for me a way toward self-assertion," Alessandro said during an interview in his office in a villa in the suburb of Treviso, a half-hour drive from Venice. "I was asked to run Benetton group for a limited period of time; that phase is finished."
Alessandro's investment firm 21 Investimenti, founded in 1992, plans to invest about 900 million euros ($1 billion) in the next five years in small and medium-sized companies in Italy, France and Poland. The firm, which has completed more than 90 investments in the last 23 years, has found its "sweet spot" in buying majority stakes to help expand small companies with high potential in industries from health care to food and beverages.
The Long View
After selling Italian shoe retailer Pittarosso and The Space cinema movie chain, 21 Investimenti may seek partners for wine producer Farnese Vini.
"We are now looking to lengthen our investments beyond the traditional five to seven years of private equity firms to exploit the full potential of our investments," he said.
Alessandro is something of an early proponent in Italy of private equity, which is expanding as small and medium-size companies -- they account for more than 95 percent of the country's businesses -- emerge from the deepest recession since World War II and look for alternative means of funding. Private equity investments rose 31 percent last year in Italy to 4.62 billion euros, the highest since 2008, according to AIFI, the Italian association of private equity and venture capital.
Cleaning House
The Benettons currently are seeking partners for businesses ranging from their eponymous clothing chain to highway restaurants and airport operations as they revamp the family's $12 billion Edizione Srl investment vehicle. The holding company is also evaluating acquisitions after boosting its cash pile by 1.3 billion euros ($1.45 billion) with the sale of a majority stake in airport retailer World Duty Free to Dufry AG in March.
Gilberto Benetton, Alessandro's uncle and the chairman of Edizione, has turned down proposals from bankers pitching investments ranging from stakes in Italian cooperative banks to a paper producer because he wants the investment company to model itself on a "sovereign fund" that manages minority holdings in diversified industries.
At the same time, the family is restructuring its flagship apparel maker before looking for a fashion-industry partner by the end of next year. The holding company's ownership is equally divided by the families of the four siblings Luciano, Gilberto, Giuliana and Carlo Benetton. Alessandro sits on the board of Edizione, Autogrill and Benetton Group.
Cash Rich
The Benettons aren't the only Italian business clan attracting investment interest. After some of Italy's best-known family-run companies were sold to foreign buyers in 2015, several prominent entrepreneurs find themselves spoiled for choice: they're cash rich with an array of investment options. Deals targeting Italian companies rose 81 percent last year to $67 billion, according to data compiled by Bloomberg.
"The biggest challenge that several Italian business families are facing is to transform themselves from managers of their companies to shareholders without losing vision and dynamism," said Alessandro, a graduate of Harvard Business School who studied under Michael Porter, the author of such bestsellers as "Competitive Advantage of Nations" and "On Competition."
As Alessandro -- who's married to former Italian skiing champion Deborah Compagnoni and has three children -- seeks out new business ventures, he follows a simple rule of thumb:
"You can't just create financial shells as this could potentially create weaknesses: it's a phase of transition and you should be able to adapt to the new condition and catch opportunities," he says.
Before it's here, it's on the Bloomberg Terminal.
LEARN MORE