Valeant Said to Sweeten Lender Terms to Get Default Waived
by and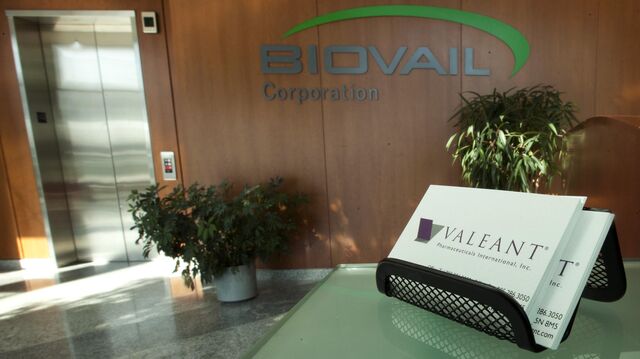 Valeant Pharmaceuticals International Inc. has moved a step closer to getting a default waived and loosening restrictions on its loan pact after offering more money to its lenders, according to people with knowledge of the matter.
To win creditors over, the company is boosting the interest on its term loans by one percentage-point, with the new rate set to stay in place for at least a year, said the people, who asked not to be identified as the information isn't public. The drug maker had initially offered to bump up the spread on the loan by 0.5 percentage point for a shorter period but faced resistance from some lenders who sought more compensation, the people said. The new terms also have a leveraged-based grid that's more favorable to investors.
Valeant has been battling souring sentiment in credit markets amid slumping earnings forecasts, lingering concerns over its financial statements and the hunt for a new chief executive officer. The pharmaceutical company is asking lenders to give it a safety net while it works on repairing its battered image.
Earlier Tuesday, Valeant said that a special ad hoc board committee has found no additional accounting issues that would require more restatements and that it plans to file its annual report on or before April 29.
The company is also pledging to direct more cash from future asset sales to reduce its debt load in order to get the consent of its lenders, the people said. Valeant needs approval from more than half of the holders of its more than $11 billion of secured loans.
Valeant spokeswoman Laurie Little and a representative for Barclays Plc, which is mediating the loan-amendment process for the company, declined to comment.
Before it's here, it's on the Bloomberg Terminal.
LEARN MORE