Kia's $1 Billion Mexico Plant Stalls as `Brazen One' Spurns Pact
By and
New state governor says he won't honor predecessor's promises

Factory lag sparks complaint by South Korea's President Park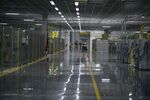 For Kia Motors Corp. Mexico's historic car boom isn't working out as planned.
A dispute with a recently elected state leader may prevent the start of production next month at a northern Mexico car factory representing more than $1 billion in investment, Kia said Tuesday. The plant is in the cross hairs of Nuevo Leon Governor Jaime Rodriguez, a former rancher who threw out the ruling party in a landslide last year and says he opposes the deal Kia signed with his predecessor.
The factory already lags five months behind schedule and South Korean President Park Geun Hye appealed to her Mexican counterpart, Enrique Pena Nieto, to intervene in the conflict during a state visit to Mexico City this week. The tiff is a rare snarl for Mexico's success at using cheaper labor and trade deals to win billions of dollars in foreign investment from the likes of Nissan Motor Co. and Ford Motor Co., which announced plans Tuesday to build a $1.6 billion small-car plant in the state of San Luis Potosi.
"Mexico has a lot to offer the auto industry, that's a big part of why Nuevo Leon was chosen," Kia said in an e-mailed response on Tuesday to questions from Bloomberg News. "However, if there is legal uncertainty or the rule of law isn't respected in the state, then this could obviously have a negative impact on foreign and local investment as well as any other activity."
'El Bronco'
At issue are the tax benefits and infrastructure investment the former governor used to lure Kia to Nuevo Leon. Rodriguez became Mexico's first state governor elected as an independent last year after electrifying voters with his plainspoken criticism of the political establishment. Known as "El Bronco" -- the nickname can refer to a wild horse and also be roughly translated as "the brazen one" -- he reiterated his opposition to the existing pact with Kia this week while saying an agreement may be near.
"Our government is totally open but we can't offer 20 years of payroll-tax exemptions," he said in a statement late Monday. "They want to continue with this same agreement and that's not possible."
Kia said it has "always had the best disposition to hear alternatives" as long as they comply with the essence of the agreement it signed with the state in 2014. The automaker said the government hadn't yet made good on commitments it made to improve rail links and roads as well as drainage and electricity.
'Negative Precedent'
Over the weekend, Park called for a bilateral trade agreement between South Korea and Mexico to provide greater protection for investors. Her government said she was thankful Pena Nieto would "look into the issue so that a satisfactory resolution can be reached," according to an e-mailed response to questions from Bloomberg.
Located in the town of Pesqueria, Kia's Mexican factory is expected to produce 300,000 cars a year and generate thousands of jobs, according to the carmaker's website. While the project is 98 percent complete, the start of production in May "could be affected if the infrastructure isn't completed or advanced," the company said.

Kia said it and its suppliers have invested more than $2 billion in Nuevo Leon so far.
"It's important that there be no lingering feeling of deception, a feeling that what was promised will not be fulfilled," said Marco Antonio Perez, a former finance ministry official who's now an economist at consultant Perez Gongora & Asociados in Nuevo Leon's capital city of Monterrey. "This could set a negative precedent among foreign investors."