Russian Bank Chief Denies Putin Link to $2 Billion Offshore Loans
by and
VTB's Kostin rejects allegation subsidiary made unsecured loan

State media largely ignores controversy over Putin circle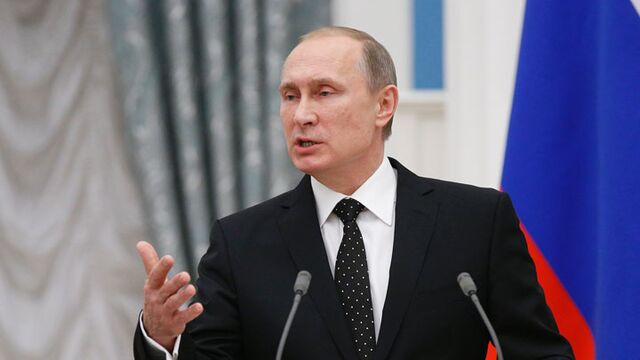 The Kremlin said Vladimir Putin is the target of attempts to destabilize Russia through the publication of reports linking him to as much as $2 billion in offshore transactions alleged to involve people close to the president.
The Russian leader isn't even mentioned in leaked files from a Panama law firm, though he's in the spotlight "because Putin, Russia, our country, our stability, our upcoming elections are the primary target to destabilize the situation," Kremlin spokesman Dmitry Peskov told reporters on a conference call Monday.

Leaked files from Mossack Fonseca, a Panama-based law firm that creates shell companies, show at least $2 billion in transactions involved people and companies that had ties to Putin, according to reports published by the International Consortium of Investigative Journalists on Sunday. Russian state media largely ignored the reports, while independent outlets critical of the Kremlin gave them prominent coverage. Allegations have surfaced in the past about corruption involving Putin's inner circle, though the information published by the ICIJ marks the most serious accusations yet.
Putin "was never involved. It's bulls**t," Andrey Kostin, chief executive officer of state-owned VTB Group, Russia's second-largest lender, said in a Bloomberg Television interview on Monday. He rejected an ICIJ report that the files showed the bank made unsecured loans through a Cyprus-based subsidiary to a close friend of the president.
'Disinformation' Campaign
One key figure in the offshore transactions was a long-time friend of Putin, classical musician Sergey Roldugin, the ICIJ said. Roldugin, who's godfather to the president's eldest daughter according to the consortium, didn't respond immediately to e-mailed questions sent to his foundation.
Another of the president's long-time associates, Arkady Rotenberg, Putin's childhood judo partner, controls at least two anonymous companies that made huge payments into the network of transactions, the ICIJ said. Andrey Baturin, a spokesman for Rotenberg, declined to comment.
Putin has many friends including Roldugin, Peskov said. The "disinformation" campaign against the Kremlin leader seeks to influence September's parliamentary elections and the 2018 presidential vote, though it's "ineffective" and won't have an impact, he said.
About 60 percent of Russians already believe "one way or another that Putin is corrupt and is part of all these networks and controls this mafia state system," Lev Gudkov, head of the independent Levada Center polling company, said by phone Monday. At the same time, almost one in five Russians don't care whether Putin's corrupt because they think that they live better under his presidency, Gudkov said.
Putin's 'Banker'
Even so, with millions of Russians sinking into poverty amid the country's longest recession in two decades, the spread of information linking the president to billions of dollars in offshore transactions may have a "cumulative" influence on Putin's popularity, Gudkov said.
At the heart of the offshore dealings, according to the ICIJ, was Bank Rossiya. Its largest shareholder Yuri Kovalchuk was described by the U.S. Treasury in 2014 as a "personal banker" for Putin and other top Russian officials when the lender was sanctioned over Russia's involvement in the Ukraine crisis. The bank didn't respond immediately to a request for comment.
While offshore holdings can be legal, they can also be used to hide wealth. The ICIJ cited documents that it alleged showed that some banks and law firms failed to follow requirements to check that their clients weren't involved in crimes.
Unsecured Loan
The ICIJ's reports included the allegation that VTB's Cyprus-based subsidiary Russian Commercial Bank (RCB) gave unsecured credit lines of hundreds of millions of dollars at extremely low interest rates to an offshore company that was involved in the transactions.
"It's absolutely out of the question that RCB would give a loan unsecured," Kostin told Bloomberg News after his televised interview. RCB is subject to European Central Bank regulation and the accusations against it came from people who "don't have the information on financial transactions," he said.
Russian Economy Minister Alexei Ulyukayev told reporters Monday that "my name has nothing to do with these events" after the ICIJ linked some of his relatives to an offshore company in the documents.
The ICIJ's allegations reflect high levels of "Putinophobia" outside Russia, though their quality is "disappointing" and the Kremlin sees no reason to take legal action, Peskov said. He accused the consortium last week of preparing an "information attack" on the president and said Russia has "the full arsenal of legal means" to defend his reputation.
Personal Wealth
The reports won't affect Putin's standing with Russians, said Alexei Chesnakov, a former Kremlin aide who still advises top officials. "There won't be any serious consequences for Putin's personal image from this publication" and their "impact on public opinion is seriously exaggerated," he said by phone Monday.
Putin's been the focus of intense speculation about his personal wealth in recent years. In 2008, he denied reports that he has a $40 billion fortune as the wealthiest man in Europe, saying that journalists had picked the allegation "out of their noses and smeared it on their pieces of paper" at his annual news conference.
Putin's corrupt and the U.S. government's known about it for many years, U.S. Treasury official Adam Szubin said in a BBC documentary broadcast in January. Peskov called the statements lies. White House spokesman Josh Earnest echoed the allegations two days later, telling reporters that the Treasury's assessment "best reflects the administration view."
Before it's here, it's on the Bloomberg Terminal.
LEARN MORE