Versace to Bottega Court Local Shoppers as Jet-Set Demand Cools
By
Luxury-goods makers catering to New York, Hong Kong residents

Spending by tourists has stagnated in wake of terror attacks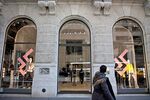 After years of feasting on tourists' demand for hand-stitched leather satchels and diamond-encrusted watches, luxury-goods makers are now courting a group they've long overlooked: local shoppers.
Handbag-maker Bottega Veneta is relocating its Manhattan store from Fifth Avenue to nearby Madison Avenue, where more New Yorkers shop. Italian fashion house Gianni Versace plans to open a Hong Kong boutique that will cater to the island city's residents, not the Chinese who have curbed spending there.
Those moves and others show how high-end brands are rehashing strategies as tourist demand cools after terror attacks in Paris and Brussels. Spending by travelers barely grew in the first two months of the year after surging 26 percent in 2015, weighing on an industry that gets more than a third of sales from them.

Luxury companies "have to think again how to keep domestic consumers loyal," said Armando Branchini, founder of consultant Intercorporate.
Take Bottega, whose sales fell 3.1 percent in the fourth quarter, dragged down by Asia. It gets more revenue from Hong Kong than either the U.S. or Italy, according to owner Kering SA, and about 80 percent from Asian clientele, MainFirst Bank AG estimates.
Moving to Madison Avenue gives Bottega more space to showcase its merchandise as the brand expands its footwear, jewelry and clothing lines, Kering Chief Executive Officer Francois-Henri Pinault said.
"When I look at the penetration of Bottega among local customers, it wasn't an absolute priority because of the brand's momentum," Pinault said, adding the company will rejig its merchandise "to have products that are better suited to the taste of local customers in the major markets."
Versace is also targeting locals in Hong Kong, according to CEO Gian Giacomo Ferraris. While Japan and Korea hold potential amid the influx of Chinese consumers there, Hong Kong remains an important city, he said in an interview.
"We are developing our strategy more to local clientele rather than tourists," he said.
Steely Emphasis
LVMH-owned Swiss watchmaker Zenith, meanwhile, is selling more steel watches than gold ones, CEO Aldo Magada said at last month's Baselworld watch fair. Rolex, Omega and Cartier are also "putting a stronger emphasis on steel and stepping up competition in a sign that middle-class consumers in developed market are now higher on their priority list," said Luca Solca, an analyst at Exane BNP Paribas.
The shifts in demand support Hermes International SCA's decision to resist making sharp price increases on its leather goods in Europe, which brands like Chanel did last year to narrow the gap with China, where a weakening euro made items purchased there more expensive. Raising prices significantly "would mean giving up on local customers and that is something we do not want to do," Hermes CEO Axel Dumas has said.
Focusing on local customers isn't a panacea, according to Philip Guarino, Europe Director at consultant China Luxury Advisors. The European and U.S. economies remain subdued and Chinese consumers are still spending overseas on "anything that isn't jewelry or watches," he said.
Luxury companies need to work harder to engage Chinese consumers when they're traveling -- by, say, marketing over social media -- rather than relying on age-old tactics like paying commissions to tour guides. Many brands "simply just don't get it," Guarino said.
Still, the response from Versace and others showcase the harsh new reality facing the luxury industry: The days of easy growth are over.