business
Sheila Bair Joins Avant Board as Online Lenders Draw Scrutiny
By
`I really want there to be more innovation and competition'

Online lender follows rivals in bringing on former regulators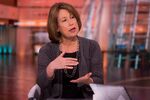 Sheila Bair, the former head of the U.S. Federal Deposit Insurance Corp., is joining the board of online lender Avant as regulators take a closer look at the burgeoning business of providing credit to consumers over the Internet.
Founded by an entrepreneur who made a fortune in payday lending, Avant is growing fast. Since it began operating three years ago, the company has originated more than $3 billion of loans, primarily to borrowers who have a few dings on their credit report.
"I really want there to be more innovation and competition serving this segment" of middle-class borrowers, Bair said in an interview. Historically, "it's underserved."
Online lending is booming in the U.S. as startups vie to make borrowing more efficient for consumers and small businesses. The rapid growth is drawing attention, with regulators including the Treasury Department examining how ventures operate. On Thursday, U.S. Comptroller Thomas Curry said his agency wants to establish a framework for regulating the so-called fintech industry, which includes everything from online lending to mobile payments systems.
As scrutiny increases, lending upstarts have been tapping former regulators. Prosper Marketplace Inc.'s board includes Raj Date, the former deputy director of the Consumer Financial Protection Bureau. LendingClub Corp. has former Treasury Secretary Lawrence Summers.
Bair's Oversight
Bair led the FDIC from 2006 to 2011, sometimes clashing with Treasury leaders over the government's treatment of the country's biggest banks during the financial crisis. She pushed for new rules to force lenders to add capital and curb risk-taking, some of which made it into the 2010 Dodd-Frank Act that stiffened financial regulation.
In 2014, she joined the board of Spain's biggest lender, Banco Santander SA, but left the following year after accepting a full-time position as president at Washington College, a liberal arts school near Baltimore.
"Sheila's proven track record and expertise in the financial services and regulatory spaces will be invaluable to the Avant team," Avant Co-founder and Chief Executive Officer Al Goldstein said in a statement Friday.
Goldstein has said he wants Avant to become "the Amazon of financial services." Investors valued his company at almost $2 billion in a fundraising round last year. It focuses on consumer installment loans, with an average size of about $8,000.
Interest rates start at 9.95 percent. The current maximum rate is 36 percent, according to the company, though they used to go higher.
Asking Questions
Bair said she asked a lot of questions and met with other directors before agreeing to join the company. Avant keeps some of the risk from the loans it underwrites and doesn't impose origination fees or pre-payment penalties, which Bair said she liked.
"They're more transparent," she said. "It doesn't look like you're providing a lower rate when you're not."
— With assistance by Zeke Faux, and Elizabeth Dexheimer
Before it's here, it's on the Bloomberg Terminal.
LEARN MORE