How a $15 Minimum Wage Went From Fringe to Mainstream
The union-backed campaign for $15 just scored a huge win in California and may get another in New York.
By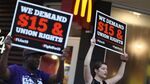 By 2020 there will be a $15 minimum wage in effect for fast-food workers in New York City, for employees of large companies in Seattle, and for all workers in Los Angeles. On March 28, California Governor Jerry Brown announced a deal to make the $15 wage standard throughout the state by 2022. Last year, Democrats in Congress proposed making it the national starting wage, replacing the $7.25 federal minimum that prevails today.