Math Problem
Sanders Second-Half Comeback Plans Running Into Tougher Primary Calendar
Big-state primaries next on the calendar have been the Vermont senator's weakest link.
By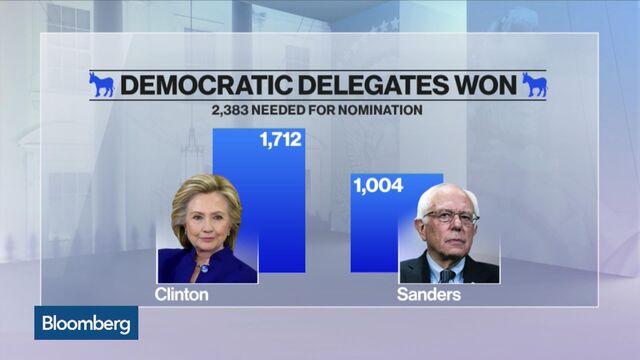 After routing Hillary Clinton in three western-state Democratic caucuses, Bernie Sanders still faces daunting delegate math and a road ahead dominated by big-state primaries that have been the weakest link in his campaign.
The Vermont senator's campaign is billing his decisive victories Saturday in Washington, Alaska, and Hawaii as the start of a second-half comeback in the nomination.
When word reached him that he'd won in Washington state's caucuses, getting 73 percent of the vote, Sanders was holding a rally in Madison, Wisconsin, a liberal bastion and college town. "That is what momentum is about," he told the crowd of about 8,100. Sanders raked in almost $4 million after Saturday's contests, campaign manager Jeff Weaver told reporters Monday.
But past contests have demonstrated that while momentum keeps donations flowing from devoted supporters, it doesn't necessarily lead to votes, victories, or delegates. After Sanders' upset victory in Michigan on March 8, he raised more than $5 million in a day, but went on to lose all five contests the following Tuesday. And despite significantly closing the gap with Clinton in national polls, Sanders has struggled to translate that into winning in bigger states with larger delegate hauls.
"It's not about momentum, it's about math to get the nomination," said Clinton deputy press secretary Jesse Ferguson. 
That makes the next two contests, Wisconsin and New York, high stakes for Sanders. To threaten Clinton's grip on the Democratic nomination—she leads him by 268 pledged delegates—Sanders needs to win both states and win them by substantial margins. 
"He's been doing well enough to keep the small donations coming and his supporters energized, and he'll be able to continue to do that all the way through to the convention," said Joe Trippi, a Democratic strategist who ran Howard Dean's 2004 presidential campaign. "But that won't get him anywhere closer to the nomination than he has been."

Sanders plans to campaign nearly non-stop in Wisconsin until the state's April 5 primary, when he'll turn his full attention to New York, which votes two weeks later, on April 19. He announced four Wisconsin rallies scheduled across the state on Tuesday and Wednesday. Clinton countered with plans for campaign stops in the state Monday and Tuesday.
"When Bernie has the opportunity to spend a lot of time in a state, it moves voters," Weaver said Saturday. 
At this point it's unclear which candidate has the edge in Wisconsin, while Clinton is favored in New York, which twice elected her to the U.S. Senate. 
A landline-only poll released last week by Emerson College found Clinton up by 6 percentage points in Wisconsin, but the state's demographics are similar to those where Sanders has performed best in the past. Wisconsin also has open primaries and same-day registration, making it easier for independent voters, who have favored Sanders, to vote.
In New York, Sanders will have none of those advantages. The state has a closed primary, and the deadline for voters to register as Democrats was in October, months before Sanders proved to be competitive in Iowa and New Hampshire. And unlike Wisconsin, which is 82.2 percent white according to the 2014 census data, New York state is 56.5 percent white. New York City, where about 43 percent of the state's residents live, is 33.3 percent white. Clinton has consistently outperformed Sanders with minorities.
The Sanders campaign acknowledges that the senator's odds would be better if New York had an open primary, but believes they can make inroads with the various minority groups in the state. Specifically, Sanders' stance on the Puerto Rican debt crisis could resonate with Puerto Rican voters, and anti-Clinton sentiments in the Haitian community may create an opening, Weaver said. 
"People want to know that Bernie's message, Bernie's agenda, will benefit their community and help their family members, and so that's going to be one of the things we emphasize in New York," Weaver said Saturday.
The campaign has asked Clinton to debate Sanders in New York in April, a proposal that a top Clinton aide said Monday depended on Sanders' "tone" going forward.
While polling has shown that Clinton continues to face hurdles winning over some Sanders supporters, that hasn't hurt her in New York. In a mid-March landline-only Emerson poll Clinton led Sanders by 48 percentage points, and her net favorability was 67 points, while Sanders' was just 37 points. 
"New York is the state that voted for Jesse Jackson in '88—it certainly is not a state that doesn't vote its heart," said Scott Levenson, a Democratic consultant based out of New York. "But it's clear now that New York's heart is with Hillary Clinton."
Levenson said that while Sanders would get votes in some of Manhattan's more liberal areas, Clinton has also proven her ability to win votes in those areas. To significantly cut into Clinton's delegate lead, Sanders would need to win by a large margin and net a majority of the state's 247 pledged delegates.
"We think we've got a real shot in New York. And then we go out to California. You go out to Oregon. That's the most progressive part of America. We think we're going to do very well there," Sanders said Sunday on ABC's This Week program.
On Monday, Sanders' top aides tried to reinforce that message. Weaver said Sanders' Hawaii win was in "one of the most diverse states in the country." Senior media strategist Tad Devine said Sanders plans to compete in every remaining state on the calendar, and that Clinton has had only a "slight edge" in gaining delegates in states where both she and Sanders competed. That "spin" drew mocking from the Clinton campaign. That "spin" drew mocking from the Clinton campaign.
In addition to his big win in Washington, Sanders got 70 percent of the vote in Hawaii and 82 percent in Alaska, the Associated Press reported. Those victories followed similarly lopsided results in Utah and Idaho on March 22.
Though Sanders picked up 55 delegates Saturday to Clinton's 20, she still holds a commanding lead with 1,712 delegates of the 2,383 needed for a first-ballot nomination at the party's national convention at Philadelphia in July. That includes 469 superdelegates—Democratic office-holders and party officials who aren't bound by results from primaries and caucuses. Sanders has 1,004 total delegates.
While the Sanders campaign argues that superdelegates, which have so far strongly favored Clinton, could flip to him because of momentum or a sense of electability, Clinton allies are doubtful, not least of all because they believe Clinton will go into the convention with a sizable pledged delegate and popular-vote edge.
The campaign acknowledged Monday that Sanders would have to win future states by large margins to overtake Clinton in pledged delegates, and that they face a steep climb for superdelegates, too. Weaver said they were in "regular contact" with prospective supporters, some of whom aren't ready to go public.
"No," Devine said, "we don't have like 300 superdelegates waiting to endorse Bernie tomorrow."
—With assistance from Jennifer Epstein, Ben Brody, and Andrew Harris.