Oculus Kicks Off Virtual Reality's Slow-Motion Revolution
The much-anticipated VR headsets have begun to arrive in homes. Don't expect the world to change all at once.
By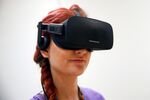 The first Oculus Rift virtual reality headsets began shipping on Monday, three and a half years after it was first launched as a Kickstarter project and two years after Facebook bought the company for $2 billion. The launch ushers in the official beginning of a new era of virtual reality, which even the most enthusiastic acolytes recognize isn't going to change the world overnight.