From Shared Values to Shared Quarters
Scandinavian-style co-housing is gaining traction among boomers.
By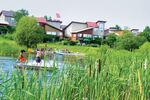 The rhythms of EcoVillage Ithaca echo those of any small upstate New York town. On a recent weekday morning, three home-schooled boys whiz by on bikes. A woman adds topsoil to raised beds of spinach and kale, rejoicing that the plants survived the winter.
But this isn't just another sprawling residential development. EcoVillage is a planned co-housing community whose 240 residents share kitchens, car rides, and a commitment to sustainable living. Born in Denmark in the 1970s, the co-housing concept has been gaining ground in the U.S., where more than 150 such communities exist, according to the Cohousing Association of the United States. While most are intergenerational like EcoVillage, senior-only co-housing developments are growing in popularity, with 10 completed in recent years and 14 in progress. "One part of the appeal is co-housing communities are mostly, if not entirely, run and organized by residents," says Stockton Williams, executive director of the Terwilliger Center for Housing at the Urban Land Institute in Washington, D.C. "It's an approach to creating a more tightly knit sense of community among people with similar values, which seems to be an aspiration that many baby boomers have."
Quimper Village will be a 55-and-up co-housing community in Port Townsend, Wash., when it's completed in 2017. The 28 single-family condos will range from $277,000 to $425,000. "People who live in a community live healthier and happier and have more fun," says Pat Hundhausen, 75, who co-founded the community with her husband, David. "We wanted to be more proactive about aging and not get caught up in some corporate or medical model," she adds.
Andrew Carle, an adjunct professor and expert on senior housing at George Mason University, says that despite its many attractions, co-housing isn't always an ideal choice for seniors, many of whom "are in denial" about the kind of care they'll need as they age. "They believe they can live in co-housing and help meet each other's needs," he says. "The reality is they will in most cases reach a point where that will not be practicable or achievable."
EcoVillage consists of three dense neighborhoods, each with its own 5,000-square-foot common house for meals and gatherings. The first, named Frog, was completed in 1997, and the most recent, Tree, was finished last November at a cost of about $9.4 million. The first two neighborhoods each have 30 townhouses, while the latest is a mix of 40 single-family homes, apartments, and townhouses, a third of which are occupied by retirees.
The 175-acre campus includes three organic farms. Solar panels gleam from rooftops and are mounted on the ground, and a reuse room enables residents to recycle clothes, toys, and books. Some villagers use a ride-sharing app to coordinate car trips. After downsizing from a 5,000-square-foot New Jersey house to a one-bedroom, $187,000 co-op apartment in EcoVillage last year, Arlene Muzyka says she and her husband have reduced their driving by 65 percent and their utility usage by 75 percent.
The cooperative nature of co-housing reverses the typical pattern of retirees becoming more isolated as they age. At EcoVillage, teams of residents cook for the communal meals held three times a week and maintain the grounds. There are frequent movie nights and special celebrations. The Community Health and Aging Team (CHAT) brings meals to ill and homebound residents and arranges transportation to doctor appointments. "It makes me feel younger to associate with all these younger people," says Richard Hepburn, 82, a retired pilot and EcoVillage resident who had meals delivered by CHAT after having thyroid surgery in January.
Living in close proximity with neighbors also can give rise to conflict. "Pets and guns are always the issues," says Alice Alexander, executive director of the Cohousing Association and a resident of the Durham Central Park Cohousing Community in North Carolina, which bans guns and forbids pets to roam unsupervised. At EcoVillage, divergent parenting styles can be a source of tension. "Some children are more free-range," says co-founder Liz Walker, which sometimes "impinges on other people." Yet she stresses that disputes are rarely allowed to fester: "Because many people want to be here for the rest of our lives, we're in a position of having to work out these conflicts."
The bottom line: The U.S. is home to more than 150 co-housing communities, with 14 more planned exclusively for seniors.
Before it's here, it's on the Bloomberg Terminal.
LEARN MORE