Rust Belt
Donald Trump's Tough But Plausible Path to Winning the White House
The Republican billionaire's support among working-class whites is worrying some Democrats and labor leaders.
By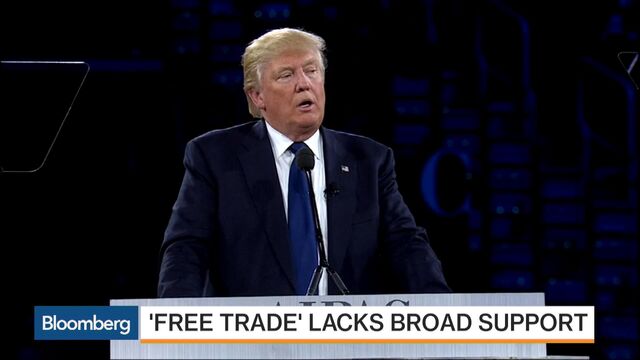 For months, Democratic strategists viewed Donald Trump as a dream opponent in the 2016 presidential race—a clownish political novice who would gift their front-runner, Hillary Clinton, the White House in a landslide.
But the glee has given way to some pangs of anxiety as the Republican candidate marches to the nomination. Trump's unexpected success in the primary has revealed his uncanny ability to appeal to the fears of working-class Americans, which some Democratic and Republican operatives say could scramble the electoral map by putting in play Midwestern states that have voted Democrat in recent elections.
"He's unpredictable. He plays by his own rules. He's thrown conventional playbooks out the window," said Tracy Sefl, a Democratic consultant who advised the now-defunct group Ready for Hillary. Sefl warns that Trump's idiosyncratic message of railing against trade deals and confronting countries where American jobs have migrated could have crossover appeal with blue-collar voters if Democrats don't counter it effectively.

Most Democrats continue to believe he'd be the underdog against Clinton, and a new Bloomberg Politics national poll finds her leading Trump in a hypothetical general-election match-up by 54 percent to 36 percent. But some in the party are bracing for a tougher battle than they once expected.
"He could alter the map and make us fight in industrial Midwestern states we have not had to fight in for years," said one prominent Democratic strategist involved in the 2016 race, who was granted anonymity to speak candidly.
Trump's likeliest path to the White House hinges on winning Rust Belt states with high concentrations of white working-class voters, according to strategists and pollsters. It's a herculean task as some of these states have voted Democrat for the past six elections, but the brash billionaire's unique economic pitch could help.
Trump could clinch the 270 electoral votes needed to become president if he holds the states Mitt Romney won in 2012 as well as Florida (29 electoral votes) and any three states between Ohio (18), Wisconsin (10), Michigan (16), and Pennsylvania (20). Two other states—Virginia (13) and Iowa (6)—are also plausible targets.
"Pennsylvania could be in play. Michigan could be in play. Wisconsin—we've got a strong Republican governor," said Ed Rollins, a GOP consultant who managed Ronald Reagan's re-election campaign in 1984. "There's obviously some disaffected Democrats in there. That hasn't been our turf, but it can be. ... Trade has not been a cutting-edge issue because Republicans have been a pro-trade and pro-business party."
Trump's attacks on trade have the potential to win over voters. According to the Bloomberg Politics poll, 65 percent of Americans prefer more restrictions on imported goods to protect U.S. jobs, while 22 percent favor fewer restrictions. Forty-four percent said NAFTA, which took effect while Clinton's husband, former President Bill Clinton, was in office, has been bad for the economy. Twenty-nine percent said it's been good. Eighty-two percent indicated they're willing to pay a little more for products made in the U.S., while 13 percent said they'd prefer the lowest possible price. A strong majority of Americans said they'd prefer a U.S.-owned factory that employed 1,000 workers in their community to a Chinese-owned factory that created 2,000 jobs.
"I don't expect any of the states in the Republican camp for the last several cycles to go away. He sorta begins with North Carolina and Indiana," Rollins said of Trump. "I don't buy the premise that it's a Goldwater year," he added, referring to Republican Barry Goldwater's landslide defeat in 1964. "Democrats automatically begin with some advantage but I expect it to be a competitive race."
Trump Scenarios
Democrats' margins in some states Trump needs to win were modest in 2012. President Barack Obama squeaked out Florida by a margin of less than 1 percentage point; he won Ohio by 2 points, Virginia by 4 points, Pennsylvania by 5 points, Wisconsin by 7 points, and Michigan by just under 10 points.
Below are two conceivable scenarios for a Trump victory that require him to win Florida and flip three swing states Obama won by single digits in 2012.

And:

To be sure, carrying Midwestern states that have trended Democrat won't be easy. An analysis by demographer Ruy Teixeira found that unless Trump out-performs Romney among college-educated white voters, a victory would require improving on the GOP's 2012 margin with working-class whites by 18 points in Michigan, 12 points in Wisconsin, 13 points in Pennsylvania, and 6 points in Ohio.
Yet some Republicans compare Trump's current general-election deficit to that of Reagan in 1980, who many Democrats initially thought would be an easy opponent.
"Remember that when people tell you Trump is 8 points behind Hillary or something, Reagan was 25 points behind [Jimmy] Carter in March of 1980," former House Speaker Newt Gingrich said. Reagan closed the gap and won the popular vote by 10 points in a 44-state landslide.
'Plain-Spokenness'
In the Rust Belt, home to the once-vibrant U.S. manufacturing sector, there is evidence of Trump's appeal. A January study by the labor-linked group Working America found unusually high levels of support for Trump among white working-class voters in Ohio and Pennsylvania—even some Democrats took to his message. Labor leaders recently told the New York Times and Huffington Post that Trump's message about upending a system that's failing the working class appeals to their members.
"If I win, Apple and all of these great companies will be making their product in the United States, not in China, Vietnam and all. And we're not going to be losing our companies. You know, our companies are leaving our country rapidly. Rapidly," Trump said on March 15 after taking a leap toward the nomination. "Frankly I'm disgusted with it. And I'm tired of seeing it. And there's no reason for seeing it. It's just gross incompetence at the highest level. We should not allow it to happen."
Recent polling in Ohio ranks debt to China, jobs shipped overseas, and the decline in manufacturing among the top four concerns for voters.
"We're already witnessing it. I don't think it's a 'what if' scenario. There's a sense that, 'I'm a Democrat, I vote Democrat, but boy I sure like this guy who says the stuff about how we gotta beat China.' … Trump's plain-spokenness, however perverse, rings true for people," Sefl said. "But that's where it stops. Because what he's proposing is absurd at best and impossible in many cases."
Clinton Counter-Offensive
Clinton has taken note of her likely opponent's potential in the Midwest. A blog post Tuesday by Clinton chief strategist Joel Benenson countered the anti-trade rhetoric of Democratic rival Bernie Sanders and Trump, writing that "it's clear that Rust Belt voters of both parties have a broader view of what it takes for America to compete and win around the world than Bernie Sanders and Donald Trump would like us to believe."
Clinton previewed her counter-offensive in a speech Tuesday night after winning the Arizona primary. "Yes, we can make things better than anybody else can right here in America," she said. "But we've gotta make sure we change the incentives in our tax code, which unfortunately actually encourages people to move jobs out of our country. We're going to take that on. And we're going to make sure that we have advanced manufacturing and the good jobs that come with it."
Meanwhile, pro-Clinton groups are collecting reams of opposition research to use against Trump in a general election, including past business deals he has made in countries like China, where some of his own products are manufactured. Trump has dismissed questions about this during the primary, acknowledging that he has exploited a broken system for personal gain but now intends to fight against it.
In an era of globalization and stagnating working class wages, Trump would be the first major-party U.S. nominee to make opposition to free trade a centerpiece of his platform. He plans to attack Clinton's mixed record on trade. Clinton in October came out against the Trans-Pacific Partnership accord negotiated with Pacific Rim countries after praising it repeatedly while secretary of state, including by calling it "the gold standard in trade agreements" in November 2012.
"People are tired of the way that things have been working and they're looking for a fundamental change to Washington, D.C., and I think that message is going to be strong in the general elation," Trump campaign manager Corey Lewandowski said. "They have seen, through bad trade deals, whether NAFTA or TPP, the outsourcing of jobs to foreign countries on the notion that it's good for the economy. Mr. Trump fundamentally disagrees with that premise. Those people in those states who have seen their jobs exported will agree with him."
Lewandowski took a highly optimistic view, claiming that Trump could even compete in his home state of New York and in Massachusetts, two of the most liberal states in the country. "We would campaign actively in every state" if Trump is the nominee, he said. He declined to get specific when asked which states Trump would prioritize in a general election, noting that he still has a primary to win.
Why Trump May Lose

Some strategists doubt Trump's nationalistic and nativist vision has substantial appeal beyond angry conservatives and voters anxious about demographic changes in the country. They argue that his sky-high unpopularity among Hispanics (12 percent favorable versus 77 percent unfavorable, according to Gallup) effectively puts other swing states like Colorado and Nevada out of reach—perhaps even Florida.
Stan Greenberg, a longtime Democratic strategist and pollster who advised Bill Clinton, Al Gore, and John Kerry, said he doesn't think Trump will be a formidable opponent for Clinton. The main reason? Female voters. Half of women have a "very unfavorable" view of the real estate mogul, according to a Reuters poll taken this month.
"There are two big problems with Trump's focus on the white working class. One problem is that leaves out the women. The white working class isn't just the boys. In our data, the majority of white non-college voters are women. And he's pushed off women," Greenberg said. "In order to get the big shift" Trump needs to win key Midwestern states, he added, "you can't be losing ground with women, which he is."
"The other part of this is the deep reactions he's created among Hispanics and African-Americans. In state terms, I don't think Florida, Virginia, Colorado, and Nevada will be close," Greenberg said, referring in part to Trump's call for mass deportation and slashing immigration. "It's a devastating start point."
Dan Pfeiffer, a former senior adviser to Obama, noted that history has been unkind to the GOP in Michigan, Pennsylvania, and Wisconsin.
"There is a difference between possible and probable," he said in an e-mail. Every Republican candidate "talks a good game about those states and most end up either pulling out or wasting money."
Tim Miller, a former spokesman for the Jeb Bush campaign who now advises the anti-Trump Our Principles PAC, predicted that Trump cannot win by super-charging the white vote and "will get destroyed" in a general election.
"Mitt got 59 percent of the white vote. Better than Reagan in '80 [who won 56 percent of white voters]. How much better could we do?!" Miller said in an e-mail. "And it would be totally off set by white suburban voters, particularly women who view Trump unfavorably at historic levels. There are still minorities in these states too! This theory is insane on its face."
'Nasty Campaign'
There are some wildcards that could alter Clinton's advantage in the electoral college. A large body of political science research finds that an economic downturn or low presidential approval typically helps the party out of power in an election. In addition, an unforeseen event, such as a major terrorist attack, could complicate the fundamentals of the election in unpredictable ways.
"We tend to always look at politics and particularly presidential campaigns through the prism of events that have already occurred—what happened last week. But the events that will shape the outcome between now and November are unwritten," Steve Schmidt, chief strategist for John McCain's 2008 campaign, said Tuesday on MSNBC. "Donald Trump is something we haven't seen in the country in a long time from that message construct. He is an American nationalist."
Political analysts and strategists in both parties agree that Clinton would start off as the front-runner as she enjoys significant demographic advantages throughout the country. The fastest-growing coalitions—racial minorities, unmarried women, and millennials—all lean Democrat. (Greenberg projects that they will rise from comprising 48 percent of electorate in 2012 to 54 percentage of the electorate in 2016.) Trump is counting on his populist messages to overcome that.
"There's no doubt that trade is a powerful new issue," Greenberg said. "Powerful in the sense that globalization and trade have been uncontested because the elites, to some degree, have conspired not really to discuss it. And Republicans have been part of that," he said, adding that immigration was also a key issue. "Democrats and their elites have been divided [on the issue of trade] and he's kinda the skunk at the garden party."
Trump and Clinton are both very unpopular. Trump is viewed unfavorably by 68 percent of Americans, while 53 percent felt the same way about Clinton, according to the new Bloomberg Politics national poll of 1,000 adults that was conducted March 19-22 by Selzer & Co. of West Des Moines, Iowa. A survey released Monday by the New York Times and CBS found that Trump and Clinton have the highest unfavorable ratings among prospective nominees since the poll began asking that question in 1984.
"It's going to be a very nasty campaign," Rollins said. "Probably as close to nuclear war as you can have in American politics."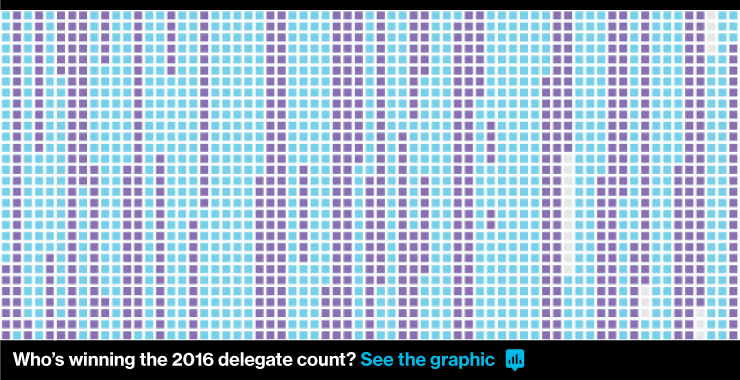 Before it's here, it's on the Bloomberg Terminal.
LEARN MORE