Remembering Silicon Valley's First Giant, Intel's Andrew Grove
Unsentimental and tough, he inspired a generation of tech legends.
By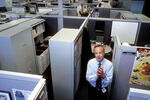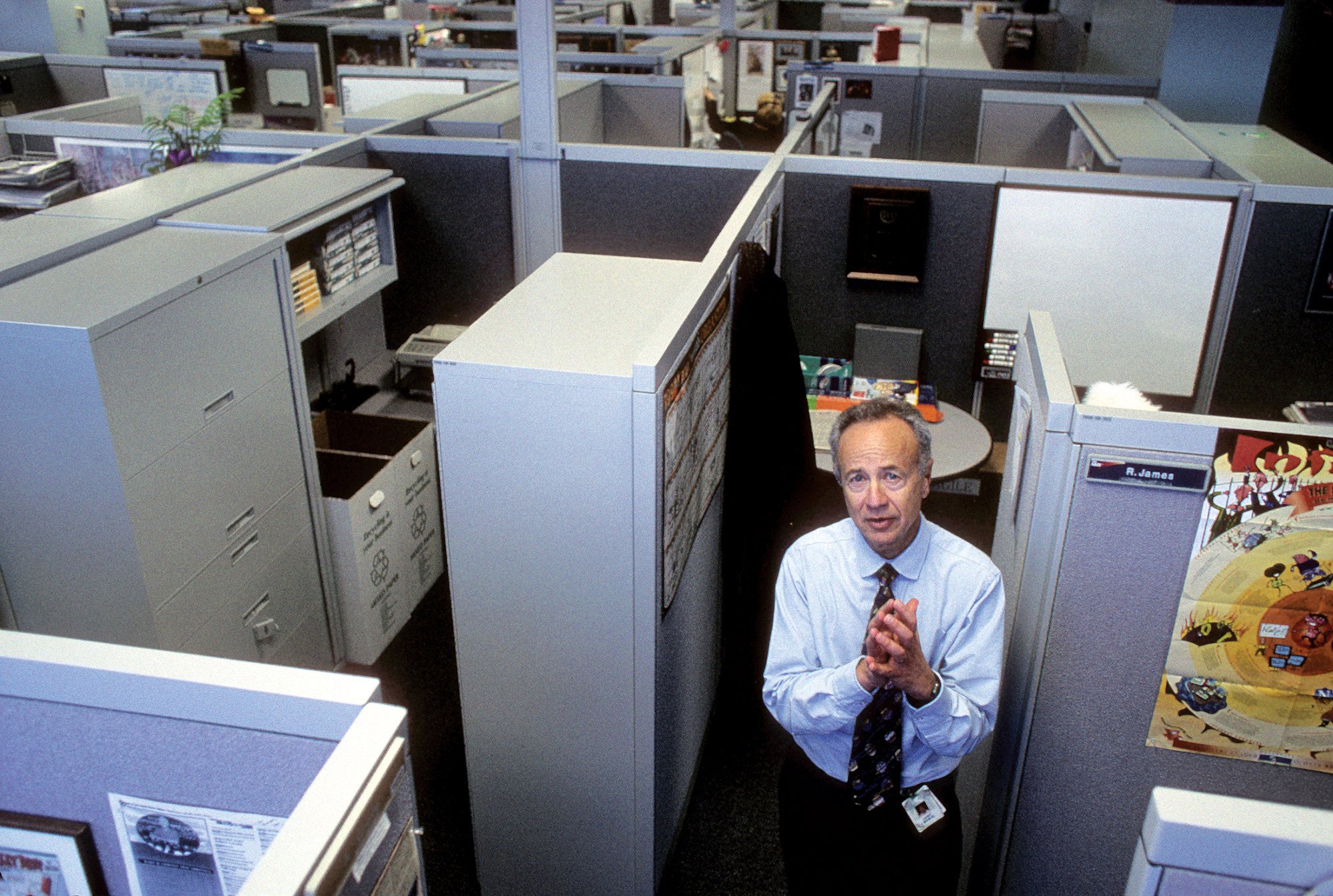 Silicon Valley is full of logical absolutists, people who will follow a line of argument wherever it goes, no matter what the human repercussions. It's a place where some seriously propose seceding from the U.S. to create a technological utopia, free of meddlesome government and the inferior majority.
Andrew Grove, who died from the effects of Parkinson's disease on March 21 at the age of 79, could be as brutally logical as anyone in the tech cosmos he helped bring into existence. But he wasn't only that—he was a rationalist with a deep humanity, who may be remembered as much for his mentorship as his intelligence. He hated the word mentor, though. "Corporate mentoring programs are a charade," he told this magazine in 2011. "The moment someone says 'mentor' or 'mentee,' I get waves of nausea." Yet at Intel, the semiconductor company he helped build, he cultivated a series of technical assistants, several of whom became leaders, too. Sean Maloney and Renée James both became top executives at the company; Paul Otellini went on to be chief executive officer. Grove also helped along younger entrepreneurs in the Valley throughout his career—among them Larry Ellison of Oracle, Steve Jobs of Apple, and Mark Zuckerberg of Facebook. "I never stopped learning from him," said Microsoft co-founder Bill Gates in a statement to Bloomberg News. "He was at the forefront of creating the personal-computer industry, and whenever we spent time together, I always came away impressed by his brilliance and vision."
Jobs and Ellison once went to Grove's house for his birthday. They wanted to show their respect for one of the rare technologists who arguably had even more impact on the culture and intellectual rigor of Silicon Valley than they did. Over dinner, the two told him he was the only person they'd willingly work for. Grove replied that he wouldn't have hired either of them. "A couple of flakes," he called them. He was at least half-serious, or anyway didn't crack a smile. "It didn't matter," says Ellison. "Both Steve and I admired and respected Andy. We enjoyed all of our precious time with him, including the memorable and characteristic abuse."

I had the privilege of glimpsing Grove's unique appeal—an unsentimental kind of empathy—at firsthand. In 2010, Grove sent me a PowerPoint deck full of bullet points about reviving the job market in the U.S. and asked whether Bloomberg Businessweek would be interested in an essay on the subject. We were, and he became, briefly, my writer, and I his editor.
Grove wanted the piece to argue that the U.S. had frittered away its manufacturing workforce, and with it much of its manufacturing expertise. The country, he said, had a misguided belief in the job-creation power of startups. In his view, the only answer to persistent unemployment was scale-ups, not startups—big, sustainable companies that hired people by the thousands.
He was formidable, and a nonnative English speaker, which made his prose difficult to edit. There were many drafts, rewrites, and heated conversations, which often ended with Grove saying, with what I took at the time as sarcasm, "Ok, Mr. Editor."
He'd certainly handled more difficult challenges than a magazine essay. In Only the Paranoid Survive, the Hungarian-born refugee wrote a manual on managing through crises. In his autobiography, Swimming Across, he described how his idyllic upper-middle-class Jewish life turned hellish during the Nazi occupation. The trauma continued after the German defeat, after the Russians came and went, and then under the communist Hungarian government, Moscow's puppet. In 1956, Grove walked across the border into Austria and never returned.
Arriving in the U.S. with less than $20 in his pocket, he was taken in by relatives in New York. He eventually moved to the West Coast to attend the University of California at Berkeley, where he earned a Ph.D. in chemical engineering. In 1963 he joined Fairchild Semiconductor, an early manufacturer of integrated circuits on silicon wafers—the foundational technology of computer chips. Five years later he followed Gordon Moore and Robert Noyce out the door to help found Intel. "I was scared to death," Grove said in a speech on the company's 25th anniversary. "I left a very secure job where I knew what I was doing and started running R&D for a brand-new venture in untried territory. It was terrifying. I literally had nightmares."
Grove became CEO in 1987. Whatever fear he felt when he arrived at Intel, he'd long since mastered and learned to use as a management tool. His planning meetings were known among executives as a "Hungarian inquisition." "Mentoring with Andy Grove was like going to the dentist and not getting Novocain," says Pat Gelsinger, a former Intel executive who went on to become CEO of VMware. "If you went into a meeting, you'd better have your data; you'd better have your opinion; and if you can't defend your opinion, you have no right to be there."
It wasn't unusual for presenters to fail to make it beyond the first slide before having their carefully prepared presentation ripped to shreds. The process was constructive savagery: It helped make Intel the world's largest chipmaker, a distinction it still holds, a decade after Grove retired. "If you were to pick one person who built Silicon Valley, it was Andy," said Marc Andreessen, the entrepreneur and venture capitalist, during a 2015 Churchill Club award presentation. "Andy kind of set the model for what a high-quality Silicon Valley company should be."
That was the man I was editing back in 2010. Eventually, after much back-and-forth, we had a mostly coherent essay—and had established a working relationship. Our e-mail and phone exchanges proceeded in accordance with his management maxims: engage in free and open debate where participants would argue vigorously regardless of rank, and, when the fights were done, "disagree and commit" to a course of action.
I still had one big problem with his essay, a rhetorical gap that needed filling. Grove was suggesting, without quite saying it, that what the U.S. needed was some flat-out government intervention to allow companies to create jobs. In the boardrooms of Silicon Valley and beyond, that's heresy.
"Andy, people who read this are going to attack you for being some kind of communist," I told him on the phone.
"I know what communism is," said the man who escaped life in Stalinist Hungary. "And I am not a communist."
"They'll dismiss all this because you're a protectionist," I said.
"I don't f---ing care," he said, pausing after each word for emphasis. "If people think I'm a protectionist, fine."
We disagreed and committed, and an edited, f-bomb-free version of that conversation became the culmination of his essay: "I fled Hungary as a young man in 1956 to come to the U.S. Growing up in the Soviet bloc, I witnessed firsthand the perils of both government overreach and a stratified population. Most Americans probably aren't aware that there was a time in this country when tanks and cavalry were massed on Pennsylvania Avenue to chase away the unemployed. It was 1932; thousands of jobless veterans were demonstrating outside the White House. Soldiers with fixed bayonets and live ammunition moved in on them, and herded them away from the White House. In America! Unemployment was corrosive. If what I'm suggesting sounds protectionist, so be it."
His break with ruling-class orthodoxy was striking, but it wasn't rooted in ideology. He was applying his usual intellectual honesty. In his mind, he was addressing a systemic failure—in this case, chronic unemployment—that threatened dire consequences. Therefore, what was needed was logic to understand the causes of that failure and devise a plan to eliminate them. The article generated a lot of response, and Grove gleefully forwarded every message or news clip, with subject lines like, "still reverberating … ."
About four months after the piece was published, we had dinner at a sushi restaurant in the Valley. His Parkinson's had progressed, and his voice quavered as we talked about the story and some ideas for a follow-up. As we left, he offered me a lift back to my hotel and gave me an impromptu tour of Silicon Valley. We drove through Los Altos, not far from where Jobs grew up, and into Palo Alto, and on to the Stanford campus. Grove pointed out the site of an old Fairchild Semi facility and talked about his days with Noyce and Moore. It was a surreal, personal travelogue through history.
Outside the hotel, I thanked him for dinner, and we shook hands.
"Good night, Mr. Editor," he called through his car window. He laughed and drove off.
—With Ian King
Before it's here, it's on the Bloomberg Terminal.
LEARN MORE