IHS Buys U.K. Financial Data Firm Markit for $5.5 Billion
by and
Jerre Stead, IHS CEO, will have same role at enlarged company

IHS shareholders will hold 57% of combined data firm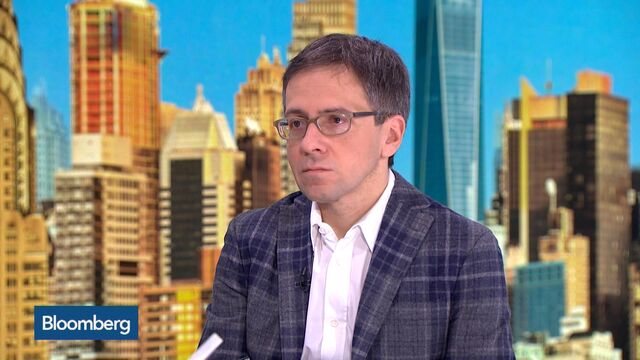 IHS Inc., which provides data analysis for energy and automotive companies, agreed to acquire London-based Markit Ltd. to bulk up in financial services.
Shareholders of IHS will get about 57 percent of the enlarged company and stockholders of Markit -- which is being valued at about $5.5 billion through the deal -- will get the rest, according to a statement on Monday. The tie-up, which will be called IHS Markit, would have $3.3 billion in revenue based on 2015 results.
IHS is a publisher and provider of information for industries including finance, aerospace, automakers, energy and technology. Markit compiles indexes for financial products, including credit-default swaps. Data, index and over-the-counter trading businesses are becoming sought-after assets at a time when increasing competition has made exchange-traded products such as stocks less profitable. In December, Intercontinental Exchange Inc. spent more than $5 billion buying Interactive Data Holdings Corp., a bond-pricing service.
'High Growth'
"Everyone expects this area to be high growth in terms of revenue," said Hirander Misra, chief executive officer of futures platform Global Markets Exchange Group International LLP.
Shares of Markit soared 9.4 percent to $32.26 at 10:58 a.m. New York time, while those of IHS jumped 6.4 percent to $117.80.
Regulations since the 2008 financial crisis have pushed over-the-counter trading away from banks and onto electronic trading platforms. That has helped fragment markets. "It gets harder to value and price things," Misra said. "That's good for data companies."
The combined company will be based in the U.K. rather than the U.S., where IHS is based. While the deal isn't technically a tax-reducing event known as an inversion -- because IHS's current shareholders would own less than 60 percent of the new company -- it has all the hallmarks of one, said Robert Willens, a corporate tax and accounting expert in New York.
IHS forecast an adjusted tax rate about 20 percent to 25 percent for the new corporation. Willens said this estimate is "likely high." The new company would be able to take advantage of tax strategies to shift U.S. earnings overseas while keeping debt in the U.S., he said. The new structure will also make it possible for the company to access foreign cash that IHS has stockpiled without paying U.S. taxes on it.
'Competitive Pressure'
"As more of these get done, other companies are going to feel competitive pressure to do the same," Willens said. "If you're in the same industry as a company that's done one of these, you've got a problem if you don't do one."
The U.S. has a corporate tax rate of 35 percent, the highest in the developed world, and also taxes companies on the sales they make abroad.
Markit shareholders will own 43 percent of the combined company. Their stake is worth about $5.5 billion based on both firms' market capitalization at the end of trading last week.
Bloomberg LP, the owner of Bloomberg News, competes with IHS and Markit by providing data to the financial-services industry.
Other major financial-infrastructure companies have also been acquisitive recently. Deutsche Boerse AG agreed to buy London Stock Exchange Group Plc last week in a deal that would create one of the biggest exchange operators in the world.
IHS Markit will cut costs by $125 million by the end of 2019, according to the statement. The companies will do so by integrating corporate functions and cutting technology spending, among other means.
The companies described the IHS Markit transaction as a merger of equals. Jerre Stead, IHS chairman and chief executive officer, will have the same role at the enlarged firm. Markit Chair and CEO Lance Uggla will be president and a board member. The combined board will have 11 members, with IHS providing six, including the chairman, and Markit five, including the lead director.
Uggla will become chairman and CEO when Stead retires on Dec. 31, 2017.
The deal is expected to close in the second half of the year. IHS Markit will also have some operations in Englewood, Colorado.
IHS was advised by M. Klein & Co. and Goldman Sachs Group Inc., while Markit was advised by JPMorgan Chase & Co.
Before it's here, it's on the Bloomberg Terminal.
LEARN MORE