McConnell Rules Out Vote on Garland Even If Hillary Clinton Wins
By
Some Republicans have called for vote on nominee in lame-duck

Democrats vow to stand by Obama's pick for Supreme Court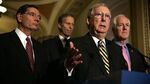 Senate Majority Leader Mitch McConnell ruled out confirming Supreme Court nominee Merrick Garland in a lame duck session after the November presidential elections if Democrat Hillary Clinton is elected.
Most Republicans oppose President Barack Obama's nominee, saying nobody should be appointed to fill deceased Justice Antonin Scalia's vacancy during a hotly contested presidential election year.
Some Republicans are breaking with McConnell's position, though. Senator Jeff Flake, a Republican from Arizona, said last week that if the Democrats win the White House in November, they should push Garland through quickly.
"I would rather have a less-liberal nominee like Merrick Garland than a nominee that Hillary Clinton, if she were president, would put forward," Flake said on Fox News. Vermont Senator Bernie Sanders, vying with Clinton for the Democratic nomination, has also said he would nominate a more liberal nominee.
"The principle is the same -- whether it's before the election or after the election -- the principle is that the America people are choosing their next president and the next president should choose this Supreme Court nominee," McConnell said on "Fox News Sunday."
He said he couldn't imagine "a Republican majority Senate -- even if it were soon to be a minority -- would want to confirm a judge that would move the court dramatically to the left. That's not going to happen."
Denis McDonough, the president's chief of staff, on the same program, reiterated Obama's call for the Senate to vote on Garland. Asked if Obama would continue to support Garland in a lame-duck session, McDonough said he would. "We will stand by him from now until he's confirmed and he's sitting on the Supreme Court."
Senator Harry Reid, minority leader in the Senate, said that more Republicans were likely to break with McConnell's position and call for consideration of Garland.
"Mitch McConnell has said a lot of things," Reid said on NBC's "Meet the Press." "But his Republican senators are not going to go over that cliff with him. They're not going to do it. As I told Merrick Garland. 'This is going to break. You're going to become a Supreme Court justice."'