Turns Out a 'Lie' Lurked Beneath the Bookends of the BRICS
By and
Leaders fall from political grace as economies sputter

Gains of past decade at risk as presidents fight for survival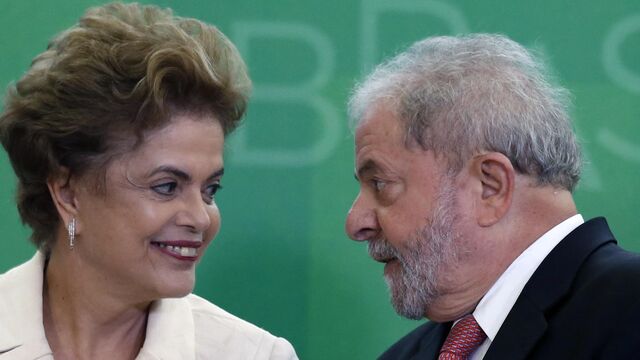 They were the darlings of the Davos set, the bookends of the BRICS. Simultaneous booms raised millions out of poverty and generated billions for a lucky few.
But now, Brazil and South Africa are united by political scandals and economic misfortune. Gloom has descended as the presidents of each country fight off corruption allegations that threaten to end their political careers. For the leaders, Dilma Rousseff and Jacob Zuma, it's a stunning fall from grace, a humiliation made worse by markets rallying on the prospects of their demise.  
"What many thought would be locomotives of growth have become risks," said Mario Blejer, Argentina's former central bank governor and a vice-chairman at Banco Hipotecario SA. "They gave the appearance that lots of progress was taking place. Suddenly we saw it was really just a lie."
Their rise always had an aspect of illusion. Their emergence was launched as part of an investment thesis promoted by Goldman Sachs Group Inc. In 2001, the firm's Jim O'Neill christened the BRIC countries, Brazil, Russia, India and China, as the engines of global growth; they were later joined by South Africa to become the BRICS.
Recent Democracies
The challenge now is whether South Africa and Brazil -- which only became fully fledged democracies over the past 30 years -- can prove they have the ability to clean house as their economies sputter. Failure to do so threatens to undo the gains of the past decade and send markets into a tailspin. It could also fuel social unrest.
"These events tend to further dissociate governing elites from the wider populations – even more so when administrations campaigned under socially progressive agendas,"  said Philippe Dauba-Pantanacce, an emerging-market economist at Standard Chartered Plc in London. "They weaken the social contract between the state and the people."
Both nations have been battered by the global slump in commodity prices. In Brazil, that's led to the longest and deepest recession in at least a century. In Africa's most-industrialized country, the government has struggled to keep the lights on, cutting into growth -- a key concern of credit-rating companies, such as Standard & Poor's, as they threaten to downgrade debt to junk.
Meantime, Rousseff is facing massive protests and an implacable judicial system in a sprawling investigation into wrongdoing at the state oil company. For Zuma, the ruling African National Congress is questioning undue influence among wealthy friends.
Weaknesses Revealed
"Now that they've been hurt badly by the commodity bust, their weaknesses become more clearly revealed," said Alfredo Saad Filho, a professor of political economy at SOAS University of London. "All the limitations, contradictions, and lack of governance problems emerge."
Their heydey with investors has long passed. Goldman Sachs closed its BRIC fund last year after it lost 88 percent of its assets since the 2010 peak. South African bonds are the worst performers across emerging markets over the past six months, with the yield on 10-year notes rising to 9.18 percent. Brazil's real is down 12 percent in the past year despite a rally this year fueled by traders' optimism that Rousseff will soon be gone. 
Of the 40 million people who climbed into Brazil's middle class during the boom years, almost one in 10 has already slid back down. Across the Atlantic, South Africa's jobless rate of 24.5 percent is even worse than it was at the start of Zuma's term and the highest among the 85 countries tracked by Bloomberg.
In systems beset by corruption, Rousseff and Zuma may just have had the misfortune of being in power when the music stopped, according to Mark Blyth, a professor of political science at Brown University in the U.S. In periods of sustained growth, "you don't notice the corruption," he said.
Still, while they fight to stay in office, they've suffered worse. Rousseff, 68, a former Marxist guerrilla, was imprisoned for three years under Brazil's military dictatorship in the 1970s. Zuma, 73, South Africa's fourth post-apartheid leader, was arrested in 1963 and sentenced to a 10-year jail term for attempting to overthrow the state.
"Both countries have the capacity to recover," said Dirk Kotze, a politics professor at the University of South Africa in Pretoria. "It's very much going to depend on the top leadership -- it can be addressed, but the current leadership in Brazil and South Africa can't do it."