Watches
Seven Watches That Geeks Will Freak for in 2016
From a new Rolex Daytona to a new complication from Patek Philippe, we've seen dozens of interesting watches at Baselworld. These are the ones the fanboys will love.
By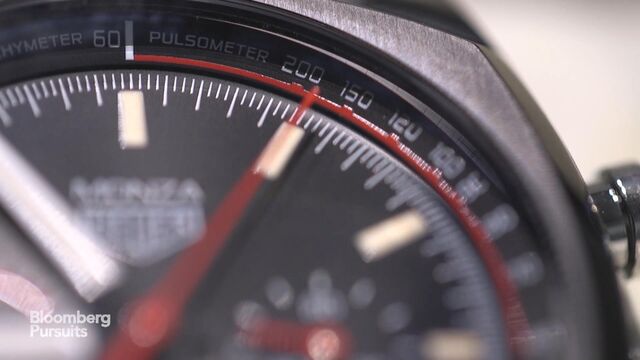 The annual Baselworld trade show is for international luxury watch brands to show off the timepieces they are going to sell in the coming year. It's a chance for buyers, private clients, social media stars, and journalists to sort through thousands of pieces with wildly different materials, complications, and mechanics and decide which is worth trumpeting or selling.
This year, many brands are showcasing a lower price point of watches to contend with changing global financial conditions. There is also a fair number of super-expensive timepieces the delight major collectors who chase the limited editions put out by high-end brands. I've seen dozens and dozens of watches by now, and quite a few weak gimmicks (New wristbands! Slightly larger faces!) in the days since the fair opened to press on March 16. But here are seven watches I'm pretty sure watch nerds will be rushing to buy this coming year.
Rolex Cosmograph Daytona

Fellow journalists were practically drooling to touch this new Daytona Rolex upon its debut; it's always a big deal to Rolex fans when there is a new model of a beloved classic. The last new Daytona was released way back in 2000, and while this stays true to those roots (and the famous 1965 Paul Newman Daytona) with its black subdials and bezel, there are enough new updates to please fans. There's a new material on the bezel, Cerachrom, with is a Rolex proprietary material that is extra scratch- and UV-resistant. The numbers around the bezel also read in a different direction (in a circle, rather than all horizontal). It has a 72-hour power reserve and self-winding 4130 movement, and it will set you back $12,200.
Patek Philippe World Time Chronograph

The ref. 5930 is a totally new movement from Patek, and its first-ever worldtimer chronograph. Inspired by a watch from the 1940s that is currently in the Patek Philippe Museum, this piece is also the thinnest and smallest worldtimer chronograph on the market. It has a 50-hour power reserve, 38 jewels, and a diameter of 33 m. It will retail for $73,000.
Bremont Regatta OTUSA

The "OT" in the name of this watch stands for Oracle Team, the America's Cup sailing squad that Bremont sponsors—which explains the regatta countdown complication at 12 o'clock on the face. The bezel is coated in luminescent paint, which creates a dramatic look at night, and each of the 235 units created will actually have a chunk of carbon fiber from an America's Cup-winning boat embedded in the crown. It will retail for $6,895.
MB&F HMX Black Badger

There will only be 18 pieces of this watch made by the mad geniuses at MB&F, six in each of three color stylings. It's an update of 2015's HMX watch, which was inspired by the twin-engine format of a supercar. But in this version, designer James Thompson (also known as Black Badger) lent a specially designed luminescent paint, which is more powerful, longer lasting, and brighter than any other lume on the market. It will retail for $50,000.
Tag Heuer Monza

Every year Tag Heuer releases a new watch inspired by a vintage piece in its museum. This year, it came up with the Monza, a 42 mm chronograph with a black titanium case. It was modeled after a watch made 40 years ago, also called the Monza, after the Formula 1 track in Italy where in 1975 Niki Lauda solidified his World Championship win. In 1976, Jack Heuer gave the watch to the Ferrari F1 team, which is why you'll note this version has the old Heuer logo (without the Tag). It will be made in a limited edition and cost $5,200.
Zenith El Primero Skeleton Tourbillon

In general this year, Zenith is aiming to lower the prices of its watches 12 percent to deal with currency inconsistencies around the globe. It looks like the sweet spot will fall somewhere below $10,000. But that doesn't mean it has given up on pricier baubles—it is making 150 of the El Primero Skeleton Tourbillon, which is a skeletonized version of its popular El Primero. The 45-mm watch will be sold starting in November 2016 for $46,000.
Omega Speedmaster Moonphase Master Chronograph

The Speedmaster Master Chronograph from Omega is getting a moonphase indicator this year, and Omega (with its well-known space history) went all out with it. The face of the moon is mother of pearl, but it is decorated according to photographs of the moon provided by NASA—and if you look at it closely with a loup, you can see the company has added Neil Armstrong's famous first footprint from the Apollo 11 mission. The watch will start at $7,140 and go up in price depending on colors and materials.
Before it's here, it's on the Bloomberg Terminal.
LEARN MORE