Quebec's Balanced Budget String Strengthens Fiscal-Star Status
by
Province joins British Columbia in not forecasting a deficit

Quebec bonds are best performers among Canada regions in 2016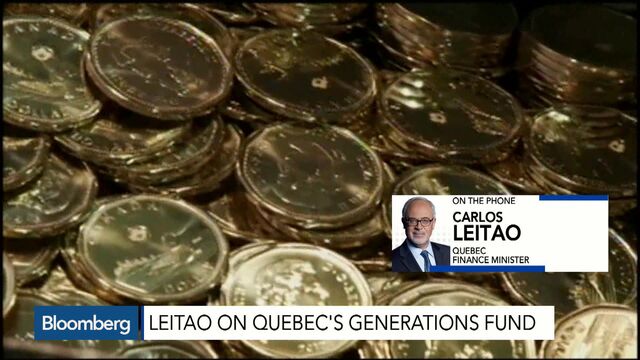 Quebec is emerging as one of Canada's fiscal stars after delivering on a promise to avoid a deficit for the second year running while reducing debt as a proportion of output for the first time since 2008-09.
Canada's second most populous province will balance the books in the year that ends March 31, and in fiscal 2016-17, Finance Minister Carlos Leitao said Thursday in Quebec City. It joins British Columbia as the only major provinces not to forecast a deficit in 2016-17.
Quebec bonds were the best-performing of Canada's 10 provinces in the year through Wednesday, gaining 0.98 percent, compared with an average 0.39 percent return in Bank of America Merrill Lynch's Canadian Provincial & Municipal Index. Bonds issued by Ontario, the country's most populous province, returned 0.38 percent in the period, the data show.
"They have made a strong effort in righting the ship," Hosen Marjaee, senior managing director at Manulife Asset Management in Toronto, said in an interview. "The market likes the fact they are keeping their word," said Marjaee, whose firm owns Quebec and Ontario bonds.
Consecutive Balanaces
This is the first time since 2008 that Quebec has presented two consecutive deficit-free budgets.
Program spending will probably increase 2.7 percent in the year starting April 1, up from 1.7 percent in 2015-16, Leitao said. Education and culture expenditures will rise 3 percent, while health and social services -- which make up more than two-fifths of program spending -- climb 2 percent.
"Quebec's return to balanced budgets should allow for some relief to the health and education sectors in the province," Michael Yake, a Moody's Investors Service analyst, said in a statement Friday. "The province, nonetheless, continues to be prudent on its spending forecasts given the weaker than previously expected economic environment."
Quebec's gross debt will be about C$208 billion ($160 billion) as of March 31, budget documents show. At 55 percent of gross domestic product, Quebec's gross debt is still well above that of Ontario, the next most heavily indebted province with a ratio of 46 percent.
Generations Fund
Leitao will balance the budget in 2016-17 even after contributing C$2 billion to the Generations Fund -- a provincial fund created in 2006 to reduce net debt -- and a C$400 million contingency reserve. The reserve for 2015-16 is C$300 million.
Managed by the C$248 billion Caisse de Depot et Placement du Quebec, the Generations Fund returned 8.1 percent in 2015. Quebec plans to plow C$14 billion into the fund over the next five years, budget documents show.
"The Generations Fund has become very credible over 10 years," Stefane Marion, chief economist at Montreal-based National Bank of Canada, said in an interview in Quebec City. "Credit-rating agencies have taken notice. This is a program that has proven its worth."
The way Leitao see it, Quebec doesn't have a choice when it comes to contributing to the fund.
Borrowing Forecasts
"The reason why we have to continue our contributions to the Generations Fund is that our level of indebtedness is the highest in Canada," Leitao told reporters Thursday in Quebec City. "We are not Alberta, we are not British Columbia that have very little debt. In order to maintain a privileged access to financial markets, we need to have a credible approach to debt control. The best weapon in ensuring our credibility is the Generations Fund."
Quebec's current debt-to-GDP ratio of 55 percent represents a decline from the 55.1 percent reported a year ago -- the first annual drop since 2008-09, budget documents show. Quebec is targeting a ratio of 45 percent in 2026, Leitao said.
Borrowings in fiscal 2016-17 will be about C$14 billion, less than the C$18.2 billion forecast in late November and the C$19.9 billion forecast in the previous budget. Quebec expects to borrow about C$16 billion in 2017-18 and C$17.8 billion in 2018-19, the documents released Thursday show.
Pre-financing in 2015-16 was C$7.6 billion, exceeding the 10-year average of C$5.6 billion.
'Sophisticated Issuers'
Quebec has carried out about 22 percent of its borrowings on foreign markets so far this fiscal year, higher than the 10-year average of 15 percent. The province has sold debt in euros, Australian dollars and U.S. dollars.
The province's debt is rated A+ by Standard & Poor's, Aa2 by Moody's and A (high) by DBRS Ltd.
"They are very sophisticated issuers," Brian Calder, senior bond trader at Franklin Bissett Investment Management in Calgary, said in a telephone interview. "They've demonstrated they are very careful, very sharp, very attuned to market needs. The fact that they seem to be moving in the right direction can only help them down the road."
Before it's here, it's on the Bloomberg Terminal.
LEARN MORE