Singapore Online Bond Mart's Top Picks After Rough 2015 for City
by
Bond prices fell by 1.6% on average in 2015, gain 0.4% in 2016

Picking issuers `more relevant' as coupons drive gains: iFast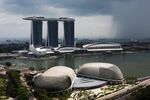 It's been a rough 15 months for Singapore's bond market. Local online trading platform iFast Corp. says the losses have created some opportunities.
Prices for a basket of 452 corporate notes with S$114 billion ($84 billion) face value gained 0.4 percent on average this year, after the members trading last year lost 1.6 percent, Terence Lin, assistant director of bonds and portfolio management at the Singapore-based investment consultancy, said in an interview. Oil services company Swiber Holdings Ltd. and shipping firm Neptune Orient Lines Ltd. were among losers, while Housing Development Board and Temasek Holdings Pte gained.
Singapore's market suffered its first defaults since 2009 with Indonesian phone retailer PT Trikomsel Oke failing to repay in November and fishery group Pacific Andes Resources Development Ltd. in January. Risks escalated on oil and shipping-related debt as drillers canceled rig orders from local yards and freight rates remained in doldrums. Amid the increased credit risks are attractive coupons that will drive returns, Lin said.
"Active bond picking appears to be more relevant at this juncture to capture the available credit opportunities as opposed to a more passive 'indexed' approach," Lin said. iFast, whose shares have risen 36 percent from the offer price in Singapore in December 2014, reported a 41 percent gain in profit last year as revenue climbed 13 percent.
Here are five of Lin's bond picks, which all offer more than the 3.89 percent weighted average coupon in his Singapore basket.
1. Australian energy provider AusNet Services. Its 5.5 percent debentures due in 2076 yield 5.27 percent to their next call date, Bloomberg-compiled prices showed. The Victoria-based power company is backed by state-owned shareholders Singapore Power Ltd. and State Grid Corp. of China. The hybrid is a rarity because of its investment-grade ratings from all three major rating companies, Lin said. It offers a pick-up over the 4.5 percent yield on similarly-rated perpetual notes from Ascendas Real Estate Investment Trust, he said.
2. Genting Singapore Plc. Its 5.125 percent perpetual notes traded at 96.4 cents on the dollar on March 17 to yield 6 percent, Bloomberg-compiled prices showed. They will hand investors a 7.7 percent yield through Sept. 12, 2017, should the casino operator choose to redeem the S$1.8 billion securities at face value then. With $1.1 billion net cash, $1.1 billion in average annual operating cash flow and interest coverage of 5.3 times, Genting should have little difficulty in servicing its obligation, Lin said.
3. Perennial Real Estate Holdings Ltd. Its S$125 million 4.9 percent 2019 debentures yield 4.76 percent. At a 353 basis point spread over government bonds, the 2019 notes offer the meatiest pick-up among the developer's three bonds, Lin said. More than 76 percent of the company's shares are held by four key shareholders -- Kuok Khoon Hong, Ron Sim and Pua Seck Guan -- and Wilmar International Ltd.
4. Rowsley Ltd.'s S$100 million 6.5 percent notes yield about 7.45 percent, according to Bloomberg-compiled prices. The builder is backed by billionaire Peter Lim with 49 percent shareholding while the Johor royal family of Malaysia owns 12.4 percent. Rowsley has very low gearing, with net debt-to-assets at 18.4 percent, which makes its yield attractive with two years to maturity, according to Lin.
5. Temasek-owned Singapore Technologies Telemedia. Its 4.05 percent 2025 bonds yield 3.91 percent. The company owns stakes in Starhub Ltd., U Mobile and Level 3 Communications. The notes offer investors a 184 basis point premium over the 10-year government bond yield, wider than the spreads on bonds sold by other Temasek-linked entities, Lin said.
Before it's here, it's on the Bloomberg Terminal.
LEARN MORE