Billionaire Li Ka-shing's CK Hutchison Tops Profit Estimates
By and
Full-year dividend of HK$2.55 a share was below estimates

Profit helped by earnings from Europe telecom operations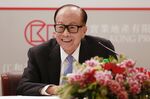 Billionaire Li Ka-shing's flagship CK Hutchison Holdings Ltd. delivered profits that edged above analysts' estimates amid higher-than-expected earnings from the European telecommunications business.
Adjusted net income, estimated by management to facilitate comparisons, slipped to HK$31.2 billion ($4 billion) last year, CK Hutchison said in a statement on Thursday. That compares with the HK$30.9 billion average analyst estimate compiled by Bloomberg. The company also announced a full-year dividend of HK$2.55 a share, while analysts estimated HK$2.71.
Earnings from the European telecom operations rose more than estimated, helping cushion a year that saw headwinds from weaker currencies in Europe and lower oil prices. For Hong Kong's richest man, the results help support last year's overhaul, which came as 87-year-old Li prepares to hand over control to 51-year-old son Victor.
The adjusted figures were provided by management to show what earnings would have been if the reorganization occurred at the beginning of 2015 instead of June. Unadjusted, net income was HK$118.6 billion.
Europe Telecom
CK Hutchison shares dropped 0.3 percent to close at HK$98.85 before it announced earnings, extending this year's decline to 5.5 percent. The benchmark Hang Seng Index has fallen 6.4 percent in 2015.
The European telecommunications business saw earnings before interest and taxes climb 69 percent to HK$11.7 billion -- beating the average estimate for HK$11 billion -- as the company saw higher earnings in the region. Still, the outlook of those operations may largely hinge on regulators, who are scrutinizing whether to approve CK Hutchison's proposed acquisition of O2 in the U.K. and the merger of its Italian wireless service with that of VimpelCom Ltd.
"It will be a turnaround story if the company convinces European regulators," said Armand Yeung, managing director of Central Asset Investments and Management Holdings HK Ltd. Telecom consolidation in Europe is key to help CK Hutchison improve profitability, he said.
On the O2 deal, CK Hutchison said on Thursday it's considering selling a stake in 3 UK to a new investor with a view to help reduce the group's investment burden.
Earnings at the ports business and retail operations slipped and missed analysts' estimates as the company cited currency fluctuations for undermining profits.  
The energy business saw profits slump amid lower oil prices. Its Husky Energy Inc. unit last month reported its first annual loss based on record stretching back to 2000 and analysts estimate losses to continue this year.